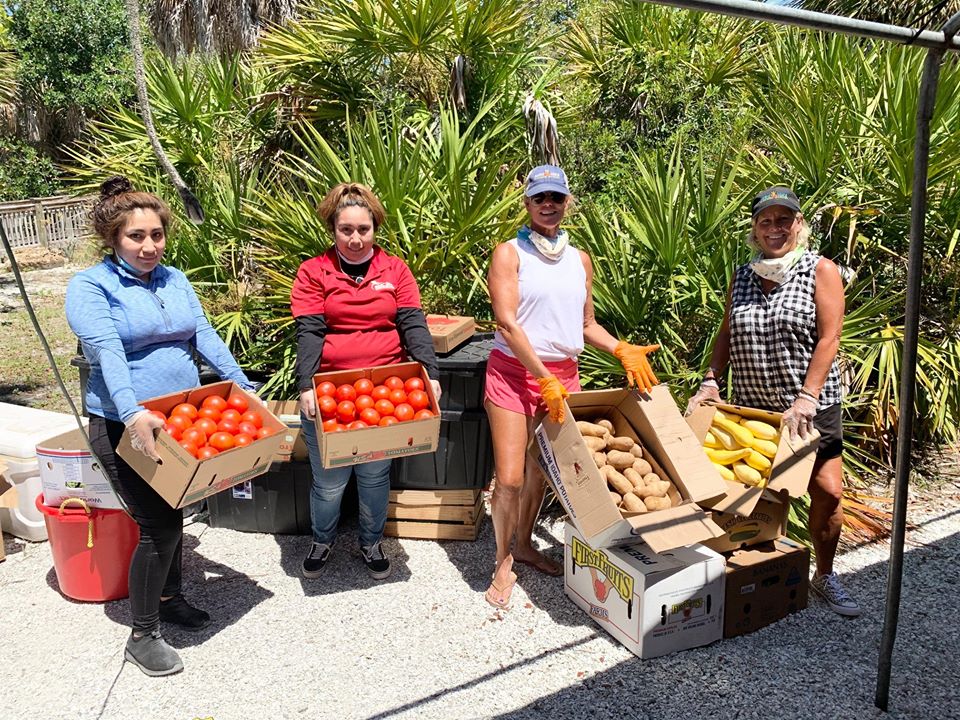 The Sanibel Farmer's Market and the delicious fruits, vegetables, breads and cheeses are greatly appreciated by the community. New this year is the 'Farm 2 FISH' program, a partnership with the Sanibel Farmer's Market and Aurora's Produce, to supply fresh produce to the FISH of SanCap Food Pantry. Shoppers donate to the cause with the hopes of reaching a weekly goal of $200. In return, Aurora's sells cases of fresh produce to FISH at market cost. "This is such a welcome gift to those who use our pantry as a supplemental grocery service," says Maria Espinoza, Director of Food Programs, FISH. "Reduced work hours along with grocery store shortages due to COVID make it difficult to purchase certain items. Thanks to the Farmer's Market, we can help bridge the gap."
Betsy Ventura and Jean Baer, owners of Local Roots, LLC which operates eight Lee County Farmers' Markets, organize the market throughout season and suggest vendors pack boxes of unsold fruits, vegetables and goodies for the food pantry. Many other farm stands, including European Bakery, operated by the Foerschner Family; Straight From NY York Bagels, operated by the Sexton Family and Gallego's Farm, operated by the Gallego Family continue to donate produce, baked goods and other items to the Food Pantry as they have done for many years. FISH volunteers pick up, sort and stock the pantry on weekend off-hours following strict COVID-19 safety precautions.
"FISH and our neighbors greatly appreciate the generosity of the Farmer's Market, suppliers and volunteers who help make this program possible. We cannot thank Betsy, Jean, the generous vendors and our volunteers enough for helping supply healthy choices for our Pantry shoppers. The continued support of the Farmer's Market and their eagerness to help is an integral part of our program's success," said Maria Espinoza.
The FISH Food Pantry is a vital service for many households. Once qualified by FISH, households receive a food pantry card to shop for items to supplement their grocery needs. The Food Pantry is open Mon. through Fri. from 10 a.m. – 3:45 p.m. During COVID-19 pandemic, users of the pantry may request certain items outside the pantry and FISH staff will shop and bag on their behalf. For additional information on FISH programs and services, please visit fishofsancap.org or contact FISH at 239-472-4775.