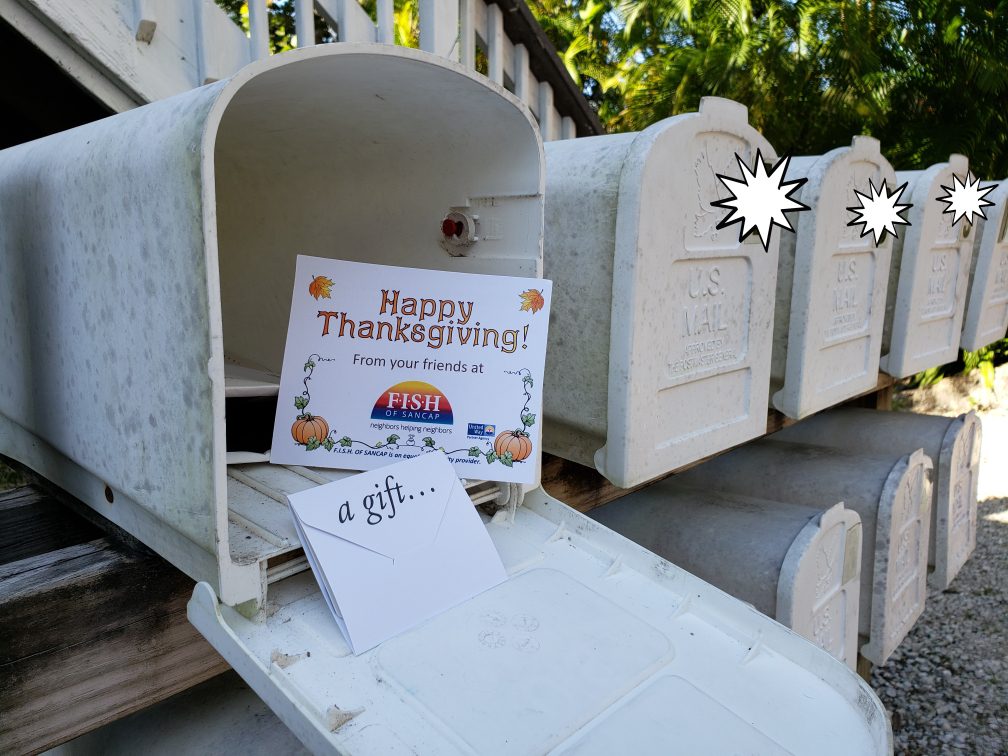 Thanksgiving, a day of gratitude often shared by family and friends, may look and feel a bit different for the second consecutive year due to the COVID crisis. Many continue cautionary measures on group gatherings and are limiting travel.
The impacts on islanders' livelihoods due to the ongoing pandemic brings increased financial and emotional strain as the holiday season approaches. FISH OF SANCAP hopes to ease that strain by providing Thanksgiving Food Baskets to island residents, workers and seniors. "The pleasure we get by providing this service, along with the gratefulness we receive from basket recipients, is heartwarming," says Maria Espinoza, Assistant Executive Director. "The traditional holiday dinner brings a sense of normalcy to what has been a very abnormal 18 plus months."
FISH will distribute bags of stuffing, rolls, fresh and canned vegetables, pies and a gift card to purchase a turkey or other holiday protein for the Thanksgiving holiday. Bailey's General Store generously donated the bags for the program and FISH supporters are already dropping off donations and financial contributions. FISH is currently accepting Thanksgiving food donations through Nov. 17 at the FISH Walk-In Center, 2430 Periwinkle Way, Sanibel.
"For many that receive a basket, particularly our senior population, the realization that there's a group of people in the community that care about them is almost secondary to the food we provide. It breaks my heart to learn that some of our older neighbors will once again be alone for the holiday with no celebratory meal. With support and donations from the community, FISH can help make Thanksgiving Day more festive for many that we serve," continues Espinoza.
Last year, FISH experienced a last-minute burst of assistance requests, and FISH staff and volunteers worked around the clock to make sure everyone would enjoy a meal for the holiday. In total, FISH provided meals for 634 neighbors in need for the 2020 Thanksgiving Holiday by providing food baskets, gift cards, and prepared meals. FISH volunteers delivered meals by car, bike, and on foot through Thanksgiving morning.
"We are pleased that we can provide this program to those needing a hand up during the holidays. With such uncertainty in the air, it warms my heart to know that we can help," says Espinoza. FISH will collaborate again with The Saint Michael & All Angels Episcopal Church Women, who, over the years, have donated pies for each basket.
If you or a family you know is in need of a Thanksgiving Holiday Food Basket, please contact FISH at 239-472-4775. For additional information on the FISH organization and their programs and services, please contact Maria Espinoza, Assistant Executive Director at 239-472-4775 or visit their website at www.fishofsancap.org.