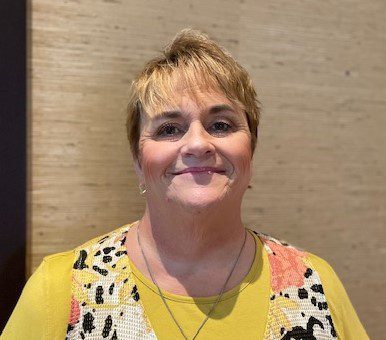 FISH OF SANCAP is pleased to announce a new team member, Kim Ouellette, has joined the organization in the newly created position of Operations & Volunteer Manager. Ouellette will provide support to the Executive Director and Board. She will also oversee data and program reporting and scheduling, training and managing all volunteers as a point person within the Walk-In Center.
"We're excited to welcome Kim to our team in a position that is critical to how our organization operates on a daily basis," said Maria Espinoza, FISH Executive Director.
Kim was born and raised in Michigan. She studied Business Administration while in college. Kim began her career working for a major retailer in a part-time capacity while in college. She then accepted a full-time management position and over the next twenty four years Kim traveled to expanding markets where she worked on training and development programs. In addition, Kim has a wealth of experience in nonprofits. She worked for the United Way of Northeast Florida and United Way of Collier County and the Keys for a total of about 14 years. She also spent a period of time working for the City of Sanibel.
"I'm very excited to be a part of the FISH of SANCAP team where I can continue to deliver services to the community and work with their very generous and talented volunteers," says Kim. Please join FISH in welcoming Kim to their team and island community.