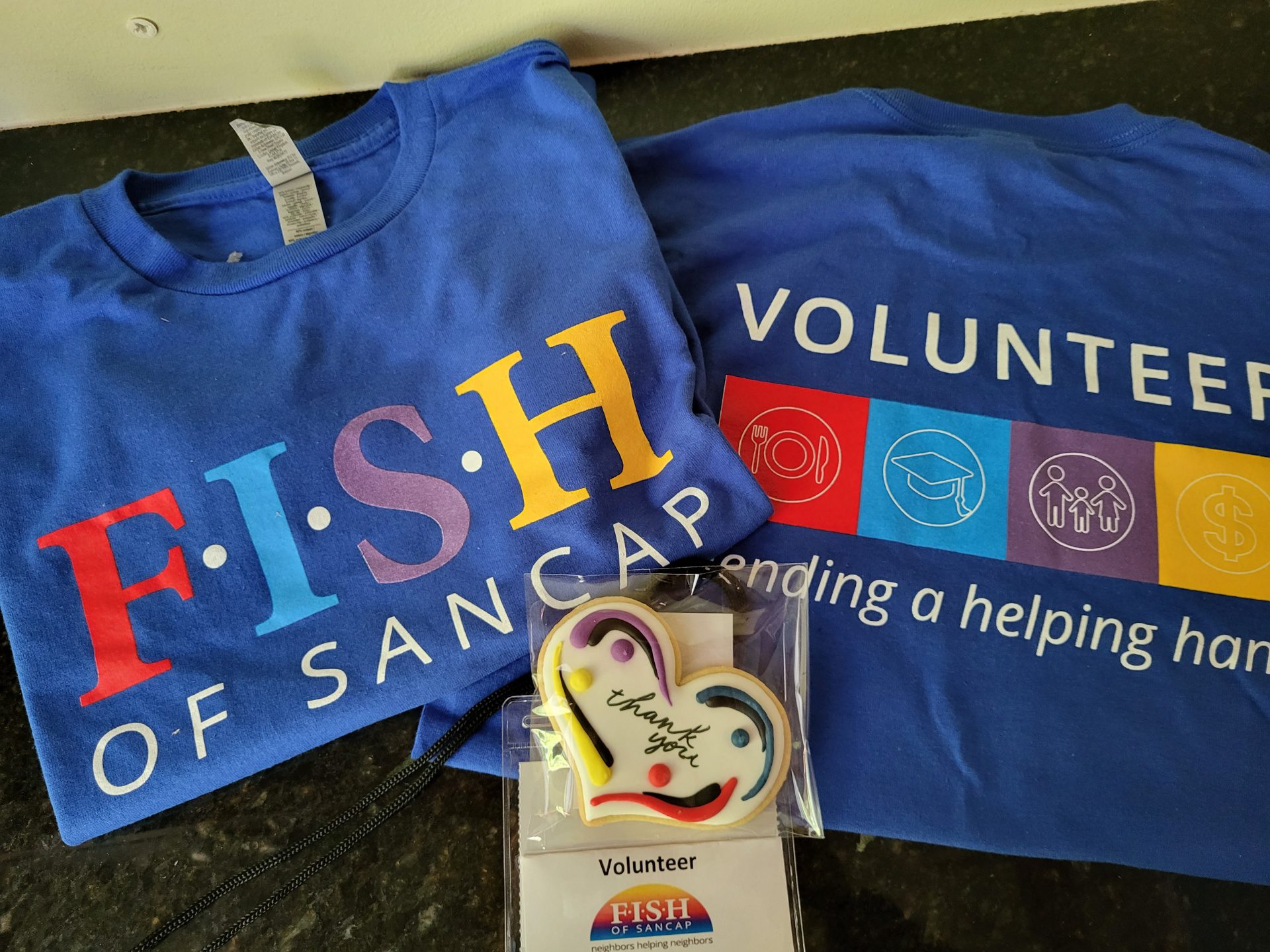 FISH OF SANCAP is honoring their team of nearly 175 volunteers for their dedicated service to the agency by providing heartfelt thanks, new FISH volunteer shirts, name badges and delicious heart shaped cookies.
FISH, a volunteer-founded social service organization, began their service 40 years as a group of 'neighbors helping neighbors'. Today, despite its exponential growth in impact, it still relied heavily on the generosity of volunteers' time. From the food pantry and hot meal delivery to food backpacks for kids, or equipment for loan—volunteers are critical to FISH's daily operations. "We rely heavily on our volunteer force and cannot thank each and every one of them enough. Their giving of time and energy toward our many programs and services is a true treasure," states Maria Espinoza, Executive Director
Annually FISH celebrates volunteers by hosting them for a luncheon to honor their hard work and to present a 'year-in-review' of the organization. This year, despite the luncheon being canceled, FISH staff and board are thanking them with new volunteer t-shirts, name badges, and cookies baked in the shape of a heart. "The level of caring and compassion from our volunteers is second to none, and we are so very proud to work with them. We wanted to present a small token of our appreciation for them and hope they wear the shirts with pride knowing how much they have contributed to our community," continues Espinoza. In 2021, FISH volunteers provided 5,836 hours of service. They delivered 5,090 meals to island neighbors for a total of 22,103 miles that year.
FISH always has opportunities to become involved, and welcomes anyone interested in becoming part of the 'neighbors helping neighbors' social service organization. From transportation to meal delivery; phone duty to stocking shelves; and much more—all skillsets and time commitments/schedules are welcome! New volunteers are trained in their area(s) of interest, and placed with a more seasoned volunteer, giving newcomers the necessary tools to be successful. To learn more about FISH and volunteer opportunities, please contact the FISH Walk-In Center at 239-472-4775.