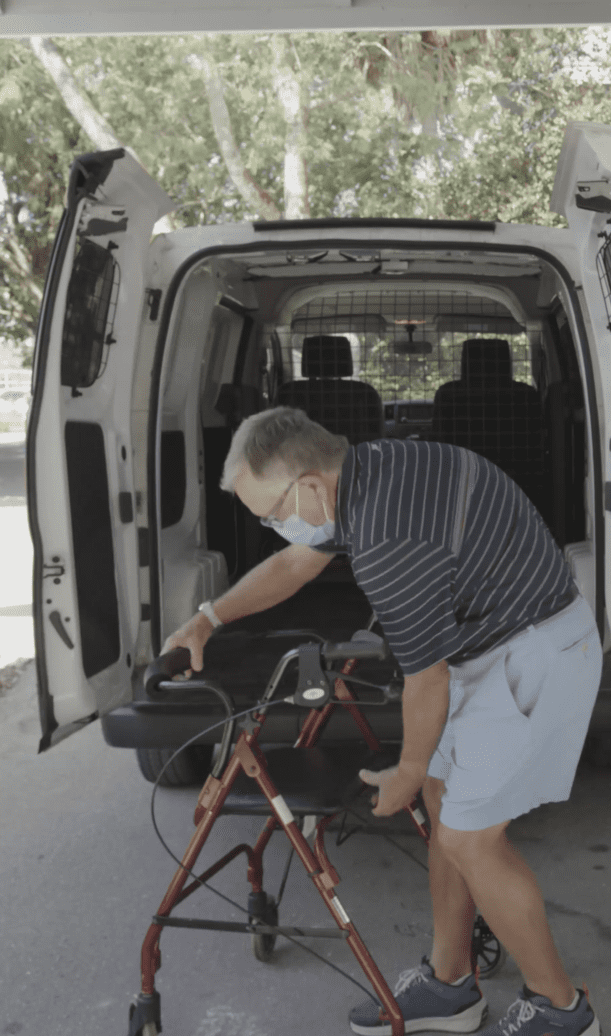 Medical equipment lending is offered by FISH OF SANCAP to assist island residents or visitors with equipment they may only need on a temporary basis. For islanders who may be recovering from a medical procedure or visitors who are unable to travel with bulky medical items such as walkers, canes, wheelchairs, shower seats, and more, can borrow equipment at no cost.
When the program began, FISH received donated new or gently used equipment from people who no longer needed it. Volunteers would clean and check the equipment, fix or replace parts if need be, and make it available to another person. Those in need either arranged for pick up or FISH volunteers would deliver the pieces. "In a conversation with Tom Dunham, son the organization's co-founder, he recalled his dad was the fixer and problem solver, often fixing wheelchairs in his driveway and testing them out before it could become available to another," notes Maggi Feiner, President & CEO, FISH. Today, FISH volunteers still maintain, organize, and distribute the medical equipment.
Those in need call the FISH answering service at (239) 472-0404, a volunteer returns the call and arranges for pick up or delivery. When the equipment is returned by the user, it is cleaned again, checked for safety and is then made available for the next person. There is no time limit for equipment loans.
Through last year, Sanibel City Hall graciously stored medical equipment and the Sanibel Fire and Rescue District stored equipment returns. Due to space limitations at the City and the continued growth of FISH programs, FISH recently rented an additional location to use for expanding programs, including medical equipment storage. In addition to equipment distribution, it also provides additional space for assembly of their Smile Box, Holiday, School Supply and Toy Drive Programs, a location to house the VITA (tax preparation) program January through April, and program storage. "We've seen increases in demand for many of our programs and anticipate significant growth in the years to come. We've reached a point that we have outgrown our Walk-In Center space," continues Feiner. "We're lucky to have been able to rent this additional space to accommodate our needs, but it does add logistical complications having two separate locations." FISH is currently evaluating space needs and viable long-term solutions to maintain programs and keep pace with growth.
The Equipment Program is available to any islanders who need it and includes wheelchairs and transport chairs (requires a person to push); walkers (non-wheeled, 4-legged with wheels, with wheels and seat, and 3-wheeled); canes (standard adjustable, 4-legged and 3-legged with a fold down seat); adjustable crutches; bath bench, bath transfer bench, shower chairs; commodes and elevated toilet seats (with and without arms).