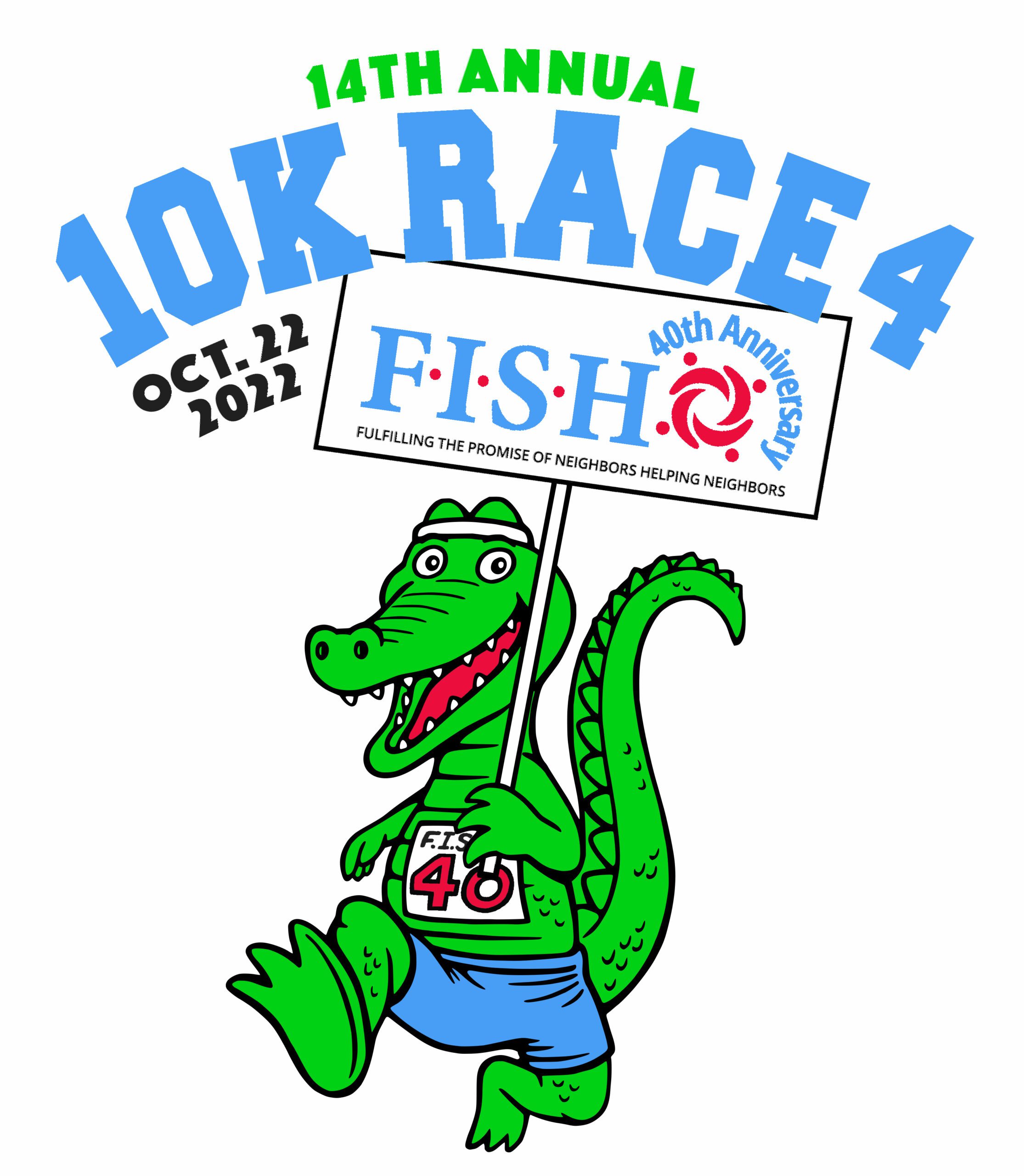 FISH OF SANCAP, the islands only wrap-around social service agency provider, is pleased to announce the date for their 14th Annual 10K Race 4 F.I.S.H. The race will be held on October 22, 2022 in conjunction with the Fort Myers Track Club who partners with FISH annually for the event. The Fort Myers Track Club was founded in 1978 to promote health and fitness through running. Membership is open to all ages and abilities and range from speedy racers to recreational joggers and walkers. For additional information, please visit their website, https://www.ftmyerstrackclub.com.
As in years past, Hortoons creator Dave Horton graciously designed the annual 10K Race 4 F.I.S.H. logo, this year with his alligator character holding the FISH 40th anniversary banner. Horton has been crafting amusing cartoon drawings for newsprint since he was in high school, starting with his school newspaper and eventually landing a deal with Hallmark when he was just a teenager. Says Race Committee Chair Diane Cortese, "Dave is a multi-talented artist and we are grateful to have him design our race logo each year. His artistic talent and sense of humor add something special to our race with each design." Participating runners will receive a race tank, with the Hortoon 10K logo on the front.
FISH has been assisting islanders since 1982 as a 'neighbors helping neighbors' organization. Started as a group of volunteer residents, FISH has grown to offer over 30 programs and services. Ranging from food programs to financial assistance with rent or medical bills; senior programs to prevent isolation and other supports for aging-in-place, FISH offers something for everyone.
When FISH began in 1982 their 40 volunteers offered assistance with meal delivery for housebound seniors, transportation off and on the islands, medical equipment lending, phone calls to check-in on neighbors, and delivering books to residents from the Sanibel Library. FISH continued to grow their neighborly programs with their Hurricane Committee, which assisted vulnerable residents, and the Friendly Faces luncheon to bring the community together. Now, as a full-fledged wrap-around social service agency, FISH relies on over 150 volunteers and a small professional staff to assist nearly 5,000 neighbors a year. FISH is ground-zero for disaster response on the islands, including now during the health crisis and in years past for environmental and weather related disasters. Last year alone FISH distributed over 5,000 meals to homebound seniors; 4,294 food backpacks to children; over 255,000 pounds of food, equating to 213,316 meals; and paid 847 rent, medical and utility bills for those in crisis. The organization is proud to have provided 1064 doses of the COVID vaccine at pop-up clinics for island seniors and at-risk community members in 2021.
FISH has had great fun with their annual 10K Race. For the last two years, however, the race was held virtually out of an abundance of caution for participants and islanders due to the COVID pandemic. "We are looking forward to this year's race and are excited to begin planning. This year we are offering the option of in-person and virtual," continues Cortese. The organization is hoping to add a kids run, business expo and other opportunities to make this year's 10K an extra special event focused on the organization's 40th anniversary. Information on sponsorship opportunities as well as 10K Days – opportunities for island businesses to showcase their establishments while supporting FISH – is available on the organization's website, fishofsancap.org.
FISH looks forward to their next 40 years serving their island neighbors thanks to the support of their community. For additional information on the FISH organization and their programs and services, please contact Maria Espinoza, Executive Director at 239-472-4775 or visit their website at www.fishofsancap.org.
For additional information on the 10K Race including sponsorship, please contact Diane Cortese, Race Committee Chair, at Dianerc10@gmail.com or Nicole McHale, Race Committee Chair, at noel2me@icloud.com.