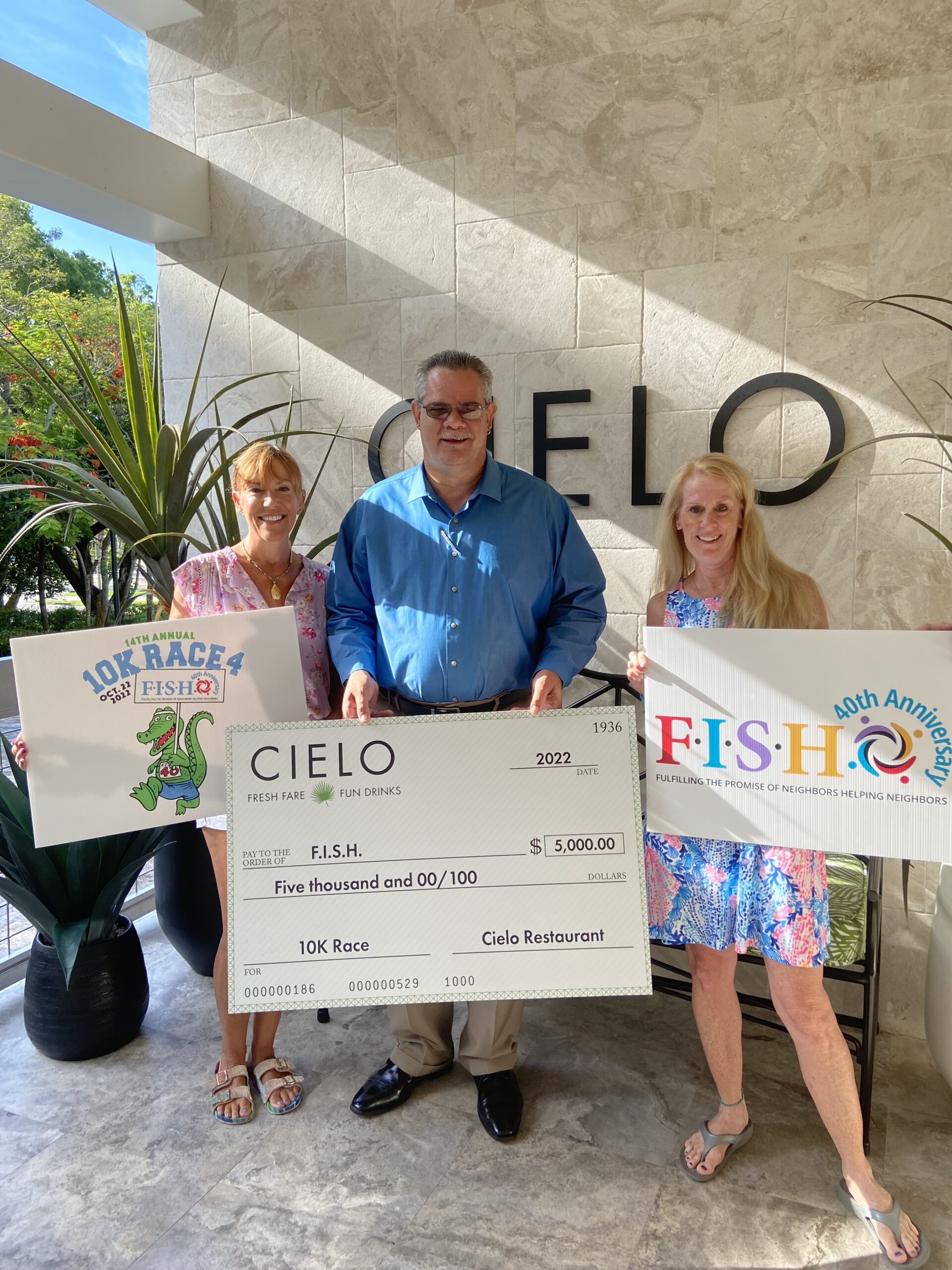 The10K Race 4 F.I.S.H. Committee announces Cielo as the premier sponsor of the October 22 annual road race in support of FISH OF SANCAP.
Cielo, winners of countless awards for their carefully curated and expertly executed cuisine, focuses on farm to table dining of the highest caliber. They are proud to locally source their products that offer a fresh, dynamic and hand-crafted dining experience for all of their guests. "Year after year, the Boler Family, Marcus Preece, and the entire Cielo team graciously support FISH as Premier Sponsors of our annual race," says 10K Committee Chair Nicole McHale. "Their generosity and commitment to our community is incredible and we're thankful for their support," McHale added.
Marcus Preece, General Manager of Cielo notes how important it is for Cielo to support FISH. "Cielo is proud to sponsor the race in support of the FISH organization and everything they do for our community," says Preece. "FISH's ability to provide assistance as a 'neighbors helping neighbors' organization truly shows their commitment to those that live on, work on and visit our special islands." To learn more about Cielo, visit https://cielo-sanibel.com/.
The 10K Race will be held in two formats for 2022, as an in-person running event and a virtual option where runners can participate and submit their time at any point from when they register through October 22nd at 11:59pm. Participating runners will receive runner's tank featuring the Hortoon 10K logo. As in years past, Hortoons creator Dave Horton designed the annual 10K Race 4 F.I.S.H. logo, this year with his alligator character holding the FISH 40th anniversary banner. Horton has been crafting amusing cartoon drawings for newsprint since he was in high school, starting with his school newspaper and eventually landing a deal with Hallmark when he was just a teenager.
Funds raised through the 10K race benefit FISH of SANCAP as they celebrate their 40th anniversary in service, meeting the needs of islanders daily. As the islands' only wrap-around social services organization, FISH has grown exponentially through the years, particularly their Helping Hands emergency financial assistance, their food pantry, children's food backpack program, and the Meals-by-FISH hot meal delivery program for housebound island residents. Last year alone FISH distributed over 5,000 meals to homebound seniors; 4,294 food backpacks to children; over 255,000 pounds of food, equating to 213,316 meals; and paid 847 rent, medical and utility bills for those in crisis.
Registration is now open on the Fort Myers Track Club website, https://www.ftmyerstrackclub.com. FISH hopes to see runners from across the country register in support of a great cause. The organization added a kids run, business expo and other opportunities to make this year's 10K an extra special event highlighting the organization's 40th anniversary. Information on sponsorship opportunities as well as 10K Days – opportunities for island businesses to showcase their establishments while supporting FISH – is available on the organization's website, fishofsancap.org.
FISH looks forward to their next 40 years serving their island neighbors thanks to the support of their community. For additional information on the 10K Race including sponsorship, please contact Diane Cortese, Race Committee Chair, at Dianerc10@gmail.com or Nicole McHale, Race Committee Chair, at noel2me@icloud.com.