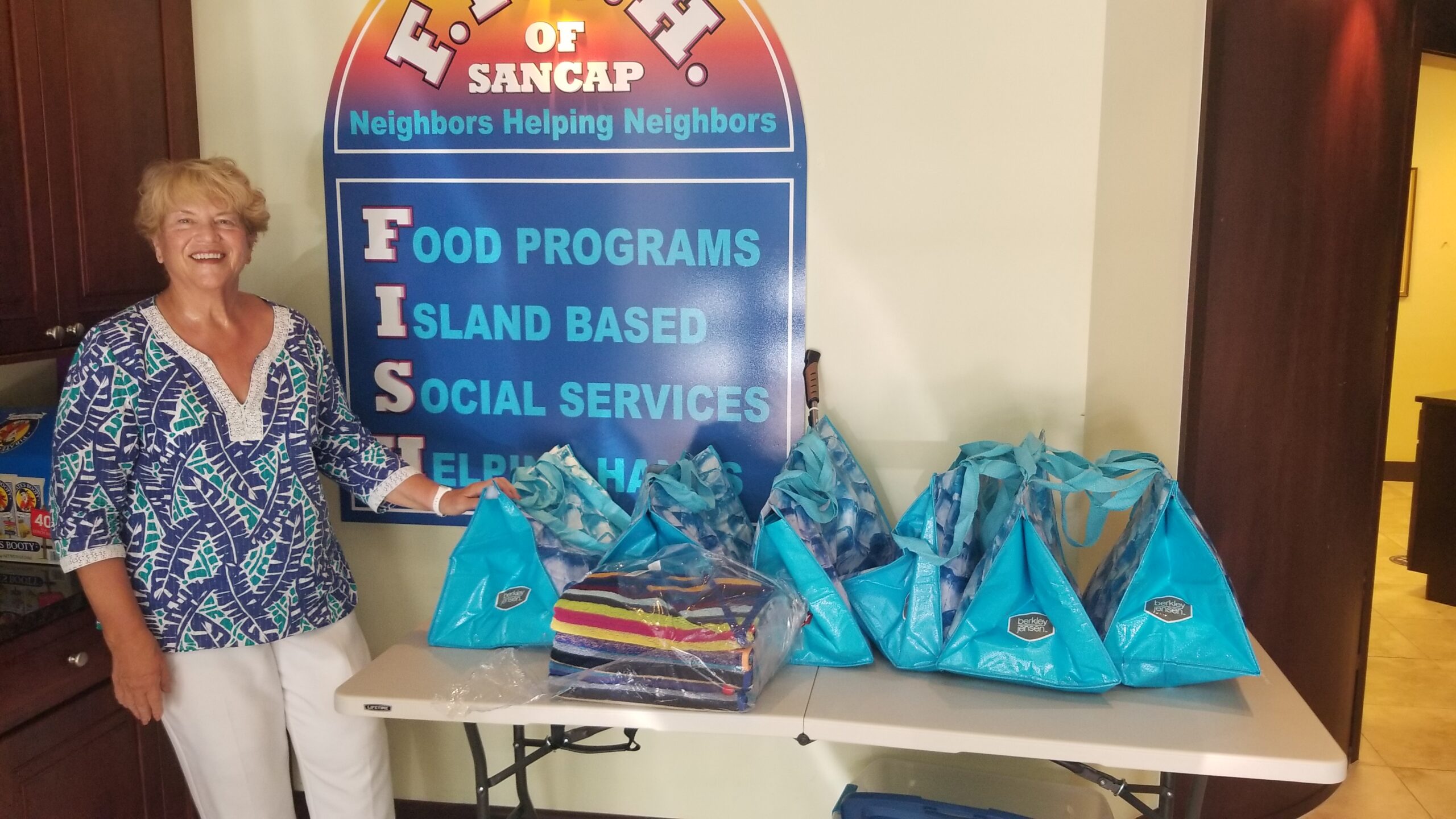 Since they began 40 years ago, FISH OF SANCAP has been finding ways to lift the spirits of island neighbors suffering from isolation and other adversities in their lives. The aging process is difficult and complicated for even well-supported seniors but can be especially complicated for those who have no family or support system nearby. FISH's variety of senior services are available to assist with any island senior in order to help residents age in place with the support of their neighbors.
"In the beginning, our organization visited and called vulnerable islanders who were alone, mainly during the summer months, when snow birds return home and the islands get a bit quieter," recalls Maggi Feiner, President & CEO. "Those services – visitation and person-to-person calls – grew very quickly to become year-round offerings. We also added the monthly Friendly Faces luncheon many years ago, offering a socialization opportunity to our community members." FISH continues to offer these services and more to help combat isolation of our must vulnerable and senior community members.
Smile Boxes, a program that began at the beginning of the COVID crisis, was inspired by the subscription box trend where participants receive boxes of products and goodies regularly. FISH quickly realized its positive impact on the community and has incorporated the Smile Box program into a regular monthly offering. The Smile Box program has grown substantially since it began in August 2020, now with over 60 participants. The boxes, often themed toward time of year, contain gifts, projects and activities for recipients to do throughout the month, household items, crafts and sometimes a sweet treat.
This month, The Sanibel Captiva Business Women's Association (SCWBA) members 'adopted' the Smile Box program as their community project and provided 65 bags of summer themed goodies for island neighbors, delivered by FISH volunteers. As space is limited at FISH, it was extremely helpful to the organization to have an off-site partner collect and store items until Smile Box delivery day. "Our members were so passionate about this project, and we truly enjoyed selecting items and filling all 65 Smile Boxes for June," says Kathy Rice, SCWBA member. "I stored everything at my house until delivery day, and it just made me smile each morning knowing SCWBA was doing its part to help our neighbors."
"We are so grateful for the enthusiastic response from SCWBA for filling all Smile Box requests this month," says Erika Broyles, Senior Services Director, FISH. "I know our island neighbors truly appreciate this program and all those that help us fulfill it. From the partners that provide products to the volunteers that deliver monthly smiles, everyone is making a difference in the lives of our seniors."
Along with FISH's other senior services programs and services, FISH views clients with a holistic lens and seeks to address root problems versus symptoms. FISH continues to find ways to combat senior isolation—an issue for seniors all of the time. The issue is particularly critical now, due to the seasonality of the islands summer months, generally May through October, when many snowbird neighbors return to their northern homes while others stay on the islands year-round. Whether through the Smile Box Program, senior technology assistance program, daily reassurance calls, or one of the many other programs offered, FISH feels strongly they have something for everyone.