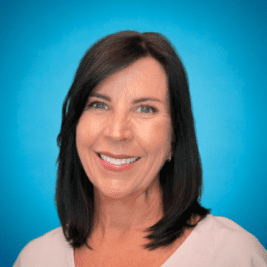 Islanders, friends and family are invited to the community-wide FISH OF SANCAP Virtual Friendly Faces Luncheon, scheduled for Tues., Oct. 11 beginning at noon via Zoom. Lunch, prepared by George & Wendy's, consists of a cold entree, side, and dessert. The cost of the luncheon is complimentary to participants. FISH volunteers deliver meals to islanders beginning at 11:30am.
Guest speaker Lynne Thorp, Executive Director at The Dubin Center, will discuss dementia-related disorders and the stigma that surrounds them. She will introduce educational opportunities and local support for those with, or caring for, someone with dementia. Lynne shares personal experience of having a close family member who had dementia and understands the emotional and physical impact of the disease.
Lynne joined the Dubin Center in September 2020. She holds a B.B.A and M.B.A in Business Administration and an M.A. in Special Education. She coached hundreds of families with disabilities and developmental delays in southwest Florida for 14 years. In 2013 Lynne was responsible for the implementation and education effort of the Affordable Care Act in ten counties in southwest Florida before working at Lee Health where she held a key leadership role in building and implementing a Medicaid health plan for Florida Region 8.
"We are very pleased to welcome Lynne to our lunch and to learn more about living with or caring for someone with a dementia-related disorder," says Erika Broyles, Senior Services Director, FISH. "Our partnership with The Dubin Center and the monthly island Memory Café offerings are helping so many in our community to understand the complexities of memory impairments."
The FISH Friendly Faces luncheon is a great way to catch up with friends, make new connections and learn about exciting offerings in the area. Reservations and meal choices are required by Fri., Oct. 7 to the FISH Walk-In-Center, 239-472-4775. Once registered, FISH will provide an emailed link and meeting ID number for access.
For additional information on the FISH organization and their programs and services, please contact Maria Espinoza, Executive Director at 239-472-4775 or visit their website at www.fishofsancap.org.