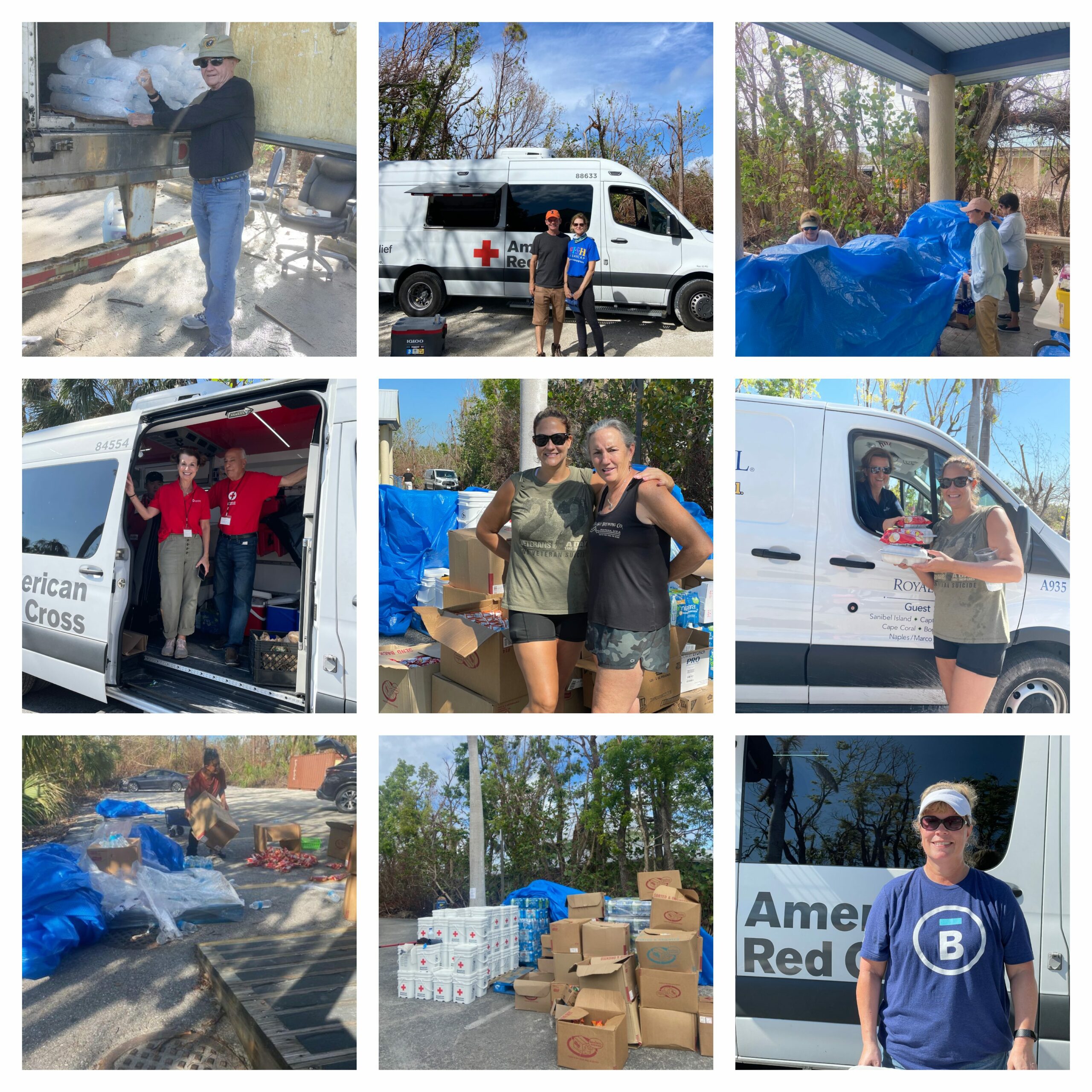 It's been nearly two months now since Hurricane Ian made landfall and FISH has continued to work around the clock to provide support for our community in this time of crisis. Daily we assist islanders residing in shelters and temporary homes, individuals who are unemployed and seeking new employment, seniors without local family, and anyone reaching out for a helping hand during this incredibly difficult time. Some of those we assist are familiar to FISH and our services, while others are 'first-timers' in requesting assistance. As we have had for over 40 years, FISH has something for everyone.

FISH is settling into our temporary office space in Fort Myers and we are working hard to restart our existing programs in addition to immediate hurricane response needs. Also, we are present on Sanibel daily, handing out cleaning supplies and personal hygiene items as we partner with different agencies to provide hot meals from our island home base. If you or someone you know is in need of assistance, please call 239-472-4775 during business hours or 239-472-0404 outside of those hours. You can also email info@fishofsancap.org and a team member will be in touch with you.

On Sanibel:
FISH is managing pods of ice and water through our partnership with United Way and the Lee County Emergency Operations Center in multiple locations on island
We are working side by side with the American Red Cross to provide hot meals daily
Providing supplies and limited food supplies for islanders such as shovels, tarps, cleaning products, and other items as they clean their homes
Offering a comfort station at the Sanibel Legion for personal hygiene and laundry needs
Coordinating with partner agencies such as Harry Chapin, Midwest Food Bank, and others to bring additional resources, including food, to Sanibel and Captiva
Thanksgiving Celebration
On November 21, FISH, in partnership with Operation BBQ, will be distributing 350 'Thanksgiving Day Kits' consisting of a frozen meal and a heating source. This will be a grab and go to cook at your home. Distribution will take place at the Sanibel Community House from 11:00a-1:00p. Available to the entire community while supplies last.
On November 22, FISH will be hosting a 'Friendsgiving' celebration! We will provide a hot Thanksgiving meal with all the 'fixings to island residents and members of the City response team. Tables will be provided for those that wish to celebrate with friends and family at the Sanibel Community House. Please join us from 11:00a-1:00p for our celebratory Thanksgiving event! Or just stop by to say hello, visit with old friends and make new connections!
Please join us in saying a special thank you to our community partners — Sanibel Community House, St. Michaels Church, Sanibel Community Church, Midwest Food Bank and Operation BBQ? — who have come together to make this Thanksgiving extra special.
Please note, these events are hosted on Sanibel and therefore available only to residents or those with island access. Please contact us at 239-472-4775 if you cannot participate and need holiday meal assistance. Please note,
FISH will be closed on Nov. 24 and Nov. 25 for the Thanksgiving holiday

From our temporary Fort Myers office space, located at 15550 McGregor Boulevard, Suite 204, FISH social service professionals are:
Delivering resources and conducting regular check-ins to displaced seniors
Connecting people with temporary housing, information and resources related to food, government assistance programs, mental health services, and other recovery services
Assisting islanders with FEMA and SBA applications for emergency assistance
Providing immediate needs such as gas cards
Connecting unemployed workers with work opportunities off-island
Connecting with volunteers ready, willing and able to assist
As we near the Thanksgiving holiday, we reflect, more than ever, on those we are most thankful for — our community, advocates and supporters. While we realize this will be a long road to recovery for the thousands of individuals we help annually, FISH is adapting in order to support our community.