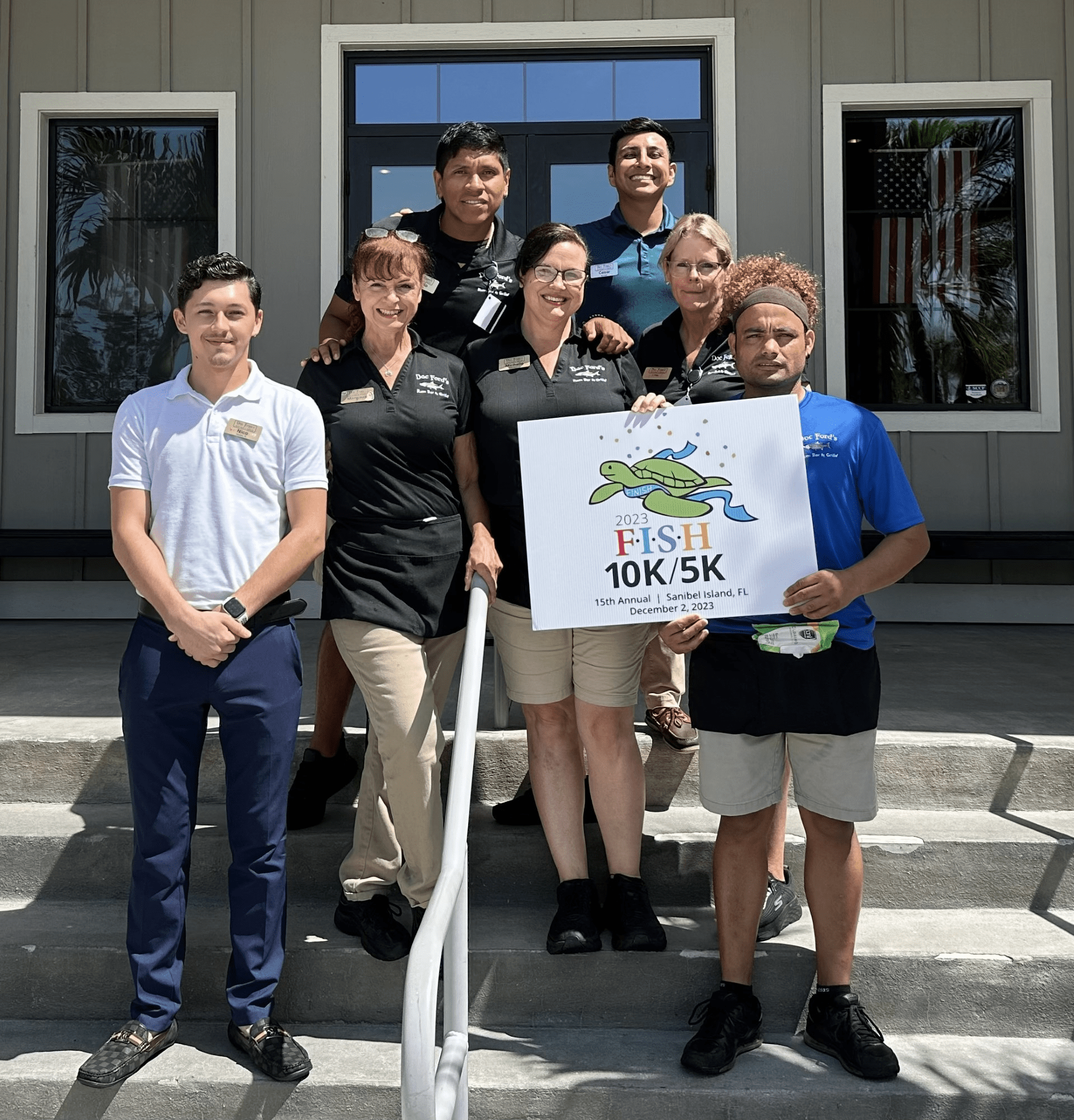 Doc Ford's Rum Bar & Grille has been serving guests for over 15 years on Sanibel Island – a community it supports in many ways. They return as a Silver Sponsor of the 15th annual FISH race that raises funds for the island's only wrap around social service agency, FISH OF SANCAP. FISH is currently providing long-term recovery disaster assistance along with programs representing their four major pillars – Food, Island Based Education, Social and Senior Services, and Helping Hands. "FISH has helped so many Doc Fords' employees," said Cesar, restaurant manager. We are happy to support the race."
The popular eatery is named for the hero of noted Sanibel author Randy Wayne White's novels, adventurous scientist Doc Ford. Diners are delighted by the flavorful dishes inspired by the author's travels to such places as Cuba, Cambodia and South Africa, as well as South and Central America. Doc Ford's has locations on Sanibel Island, Captiva Island, Fort Myers Beach, and the St. Pete Pier! The Sanibel and Fort Myers Beach locations have recently re-opened after heavy damage from Hurricane Ian.
"We are proud to have Doc Ford's support our race and our mission, one that helps residents, our workforce and visitors," said Leah Winkler, FISH Race Committee Co-Chair. The race event, set for Sat., Dec. 2, 2023, will begin and end at the Sanibel Community House as an in-person race. A virtual option is also offered. To register, visit Run Sign-Up.
Businesses and individuals may sign up to sponsor the race to support the 'neighbors helping neighbors' organization. This year FISH has added a 5K on race morning followed by a Family Day and Kids Run for children aged 10 and under to be held at The Sanibel Recreation Center. This year's race marks the first in-person event in recent years. In 2020-2021 the organization offered a virtual only race due to COVID and canceled the 2022 event due to Hurricane Ian. The 2023 10K/5K will also offer a virtual option, but FISH encourages runners to join in-person and stay on the islands for the day or weekend.
Support for the race is critical. Sponsorship opportunities are available at various levels and can be found on the organization's website, fishofsancap.org. For additional information on the 10K/5K Race including sponsorship, please contact Diane Cortese at Dianerc10@gmail.com or Leah Winkler at leahwinkler12@gmail.com