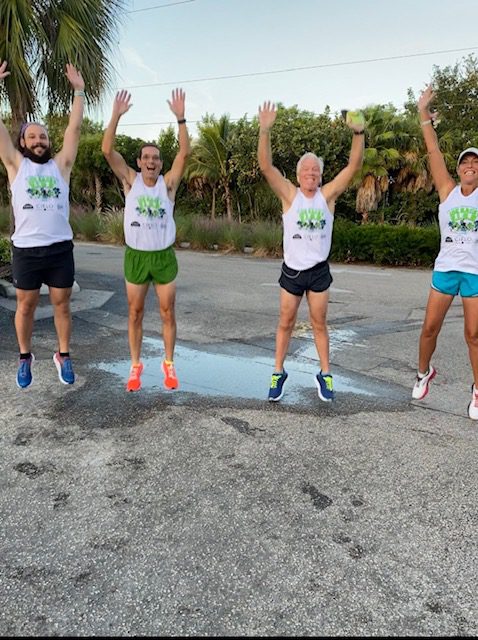 The 10K Race 4 F.I.S.H. Committee announces Sanibel Spoonbills Run/Bike Crew as a Platinum Sponsor of the 13th annual road race in support of FISH OF SANCAP. The Spoonbills train and participate together at various athletic events. The crew's multi-sport swim, bike and run experience varies from very accomplished athletes to those relatively new to these sports. Ages range from 20s to 70s, with geography represented from Canada to Argentina. Says Roger Timm, "The Spoonbills support FISH because it very well addresses the social service needs of the local islands' community, providing a safety net to all. Community needs are especially pronounced during this pandemic when much more support for FISH is required." Crew member Nicole McHale states, "I'm proud to be a member of a group that believes in giving back to FISH of Sancap while staying fit! "
The Sanibel Spoonbills Run/Bike Crew started with several triathletes from Sanibel swim training at the Sanibel Rec Center in 2014 and they continued the run, bike and open water swim training separately as a small group for a few years. In 2018, the Sanibel Spoonbills Run/Bike Crew was formed, and the informal group has continued multi-sport training and has participated in local area 5K and longer distance marathon races, and triathlons, including the 10K Race 4 F.I.S.H., as well as events outside the region. Recently, several members of the Crew supported fallen responders in a run remembering 9/11 and led by Sanibel Fire Dept. Division Chief Tim Barrett.
This year's 10K is a virtual opportunity for runners to participate while supporting the island's social service organization. Registration is open through the Fort Myers Track Club at ftmyerstrackclub.com and runners will log their results online through a race link. Times will be accepted at any point from registration through Oct. 31st. Participating runners will receive a dri-fit shirt, with the Hortoon 10K logo on the front, as well as 10K medals which will be mailed to directly to them based on sign up date.