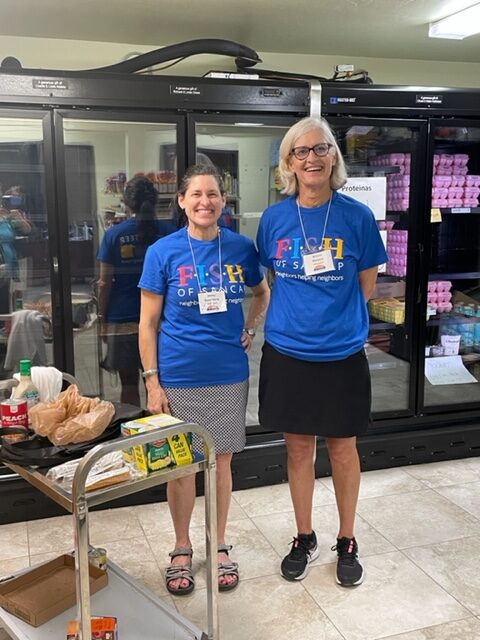 FISH OF SANCAP, the islands' only wrap-around human services organization, was founded 40 years ago as a neighbors helping neighbors organization and continues to value their volunteers as the lifeblood of the organization. Through activities big and small, FISH volunteers allow the over 30 programs and services FISH offers year-round — their food pantry, hot meal delivery, food backpacks for kids, equipment for loan, and more — to serve island residents, workforce and visitors.
This time of year, the 'end of season' for the islands, comes with mixed emotions for the FISH organization. "We witness our volunteers, many of whom are 'snowbirds', return to their northern homes beginning in late April," states Maria Espinoza, Executive Director, FISH. "Volunteers are the essence of our organization. We couldn't exist without the people who share their time and hearts with us and our community. Volunteers help us with everything from delivering meals and assembling backpacks and Smile Boxes, answering phones and stocking shelves, to event planning and grocery shopping – and we appreciate all of it! In 2021, volunteers provided over 5,800 hours of service and drove over 22,000 miles on behalf of FISH and our neighbors."
As season comes to an end almost half of FISH volunteers head back home through at least October, while the FISH organization finds creative ways to continue to provide services. "Although it may take us a little longer to find a phone duty or a Walk-In Center volunteer, we always find a way to get the job(s) done. Our year-round volunteers really go above and beyond to fill in the gaps," continues Espinoza.
Kim Ouellette is the FISH organization's Operations and Volunteer Manager, who supports FISH by engaging new and existing volunteers with a rewarding volunteer experience. Her responsibilities include recruitment, engagement and communication to support operational excellence and create a meaningful experience for volunteers that embodies 'neighbors helping neighbors' organization. "It's refreshing to see our volunteers, new and tenured, work together and develop a bond, enjoy new experiences and grow friendships as they give their time and talent to FISH and our community," notes Ouellette. "How fortunate are we all that individuals that decided to volunteer are able to create a friendship and comradery that goes beyond their time spent at FISH."
FISH volunteers are full and part-time residents, retired and working. Some help in one service area, others assist with several, and some can only give mornings or afternoons or certain days of the week, while others have more availability. There are always opportunities to become involved with FISH. With so many possibilities everyone can find a good fit!
Jenny Rosenberg began volunteering at FISH in the Food Pantry in January, desiring to give back while experiencing the organization and learning what they were all about. "I was also hoping to have a more personal connection to Sanibel, to widen my circle beyond my neighbors, and yoga and swim friends I met since moving here in 2019 with my husband," says Rosenberg. Through her volunteer time at FISH, Rosenberg met a fellow food pantry volunteer, Kristin Malone, and the two became instant friends. "We try to catch up on the previous month of life while stocking and organizing food products during our shift. Here's to new friends! I'm so grateful," continues Rosenberg. Malone is equally as grateful, noting she always looks forward to her volunteer hours at FISH. "I feel so fortunate to be down here on Sanibel. I volunteer 'up north', but felt the need to give back to this beautiful island — it's a special place. And, the first time I volunteered, I met Jenny and we just connected; we have a lot in common and I always look forward to our shift."
There are always opportunities to become involved with FISH, from transportation to meal delivery; phone duty to stocking shelves; and much more! New volunteers are trained in their area(s) of interest, and placed with a more seasoned volunteer, giving newcomers the necessary tools to be successful. The application to become a FISH volunteer can be found on their website, https://www.fishofsancap.org/volunteers.
To learn more about FISH and volunteer opportunities, please contact the FISH Walk-In Center at 239-472-4775.