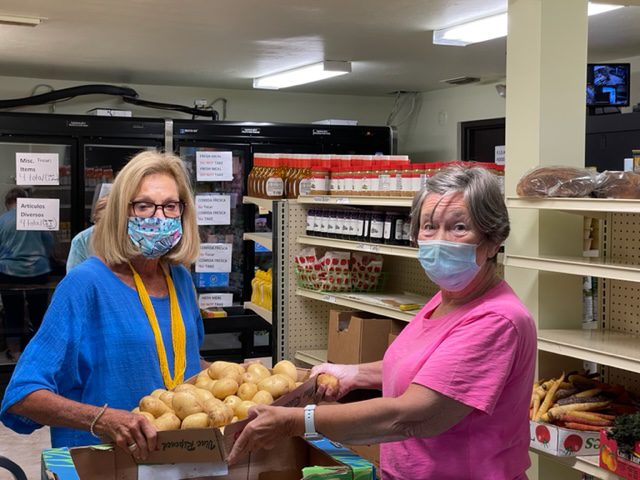 — Established in 2008, the Sanibel Farmer's Market, has become a Sunday morning ritual for many, providing delicious fruits, vegetables, breads, cheeses and more to islanders and visitors alike. The market, located at Sanibel City Hall, 800 Dunlop Road, is run by Betsy Ventura and Jean Baer, owners of Local Roots, which operates ten Lee County Farmers' Markets. The Sanibel Farmer's Market is open every Sunday from Oct. through May from 8 a.m. to 1 p.m. and offers something for everyone, from fresh fruits and vegetables, honey and cut flowers, to meats, seafood, prepared meals, cupcakes, bagels, fresh guacamole, native plants and more.
Annually, the Market coordinates with FISH OF SANCAP to provide fresh products to the islands' only Food Pantry. At the recommendation of Betsy and Jean, vendors pack boxes of unsold fruits, vegetables and goodies for the FISH food pantry. At the end of every market Sunday, FISH volunteers pick-up, sort and stock donated items at the Food Pantry, located at 2430 Periwinkle Way. Participating vendors that donate to FISH include European Bakery, operated by the Foerschner Family; Straight From NY York Bagels, operated by the Sexton Family and Aurora's Produce, operated by the Zuniga family. "We are so grateful for the products provided by the Market vendors," says Maria Espinoza, Executive Director, FISH.
The FISH Food Pantry is a vital service for many households; the organization receives requests for assistance daily from island residents and workers struggling to afford the skyrocketing cost of groceries. FISH has increased the purchase of products weekly and now must place limits on how much one family can take to ensure staples are available to all Food Pantry patrons. The organization works to keep pace with increased demands but also has experienced procurement issues at times due to shortages as well as increased spending correlating to the increased costs of food. Last year, the Pantry program distributed 255,980 pounds of food equating to 213,316 meals.
"The continued support from the Farmer's Market and their eagerness to help is an integral part of our success. We also are so appreciative of our volunteer teams who pick up from the market and organize our food pantry on Sunday afternoons. We could not provide these wonderful products to our community without their help," continues Espinoza.
In addition to the Pantry partnership, FISH and several vendors worked together to provide a themed Smile Box to island seniors. Vendors donated and provided reduced cost items such as soap, pears, mini pumpkins, bread, candles, honey, jam, beet and okra chips, all tucked into a Farmer's Market reusable bag.
The Smile Box program at FISH was established to brighten the day of island seniors. The inspiration for the boxes comes from the subscription box trend where participants receive boxes of products and goodies regularly by mail. The boxes, often themed toward time of year, contain gifts, projects and activities for recipients to do throughout the month, household items, crafts and sometimes a sweet treat. Participating vendors included Paradise Candle and Soap Co.; House of Nuts; Aurora's Produce; Euro Bakery Stand; and Jean and Betsy's Sanibel Farmer's Market booth.
"FISH and our neighbors greatly appreciate the generosity of the Farmer's Market. We cannot thank Betsy, Jean and the generous vendors enough for helping supply healthy choices for those that use our Pantry, and again for suppling items for our Smile Boxes," adds Espinoza.
The Sanibel market is welcoming open-air environment that is spread out to create social distancing. Hand sanitizer is available everywhere, and visitors are asked not to gather due to the ongoing pandemic. In addition. Shoppers are encouraged to bring any dry and canned foods to the market booth or give a monetary amount on Sundays that will be donated each week to FISH of SANCAP. For more information, visit online at http://buylocallee.com.