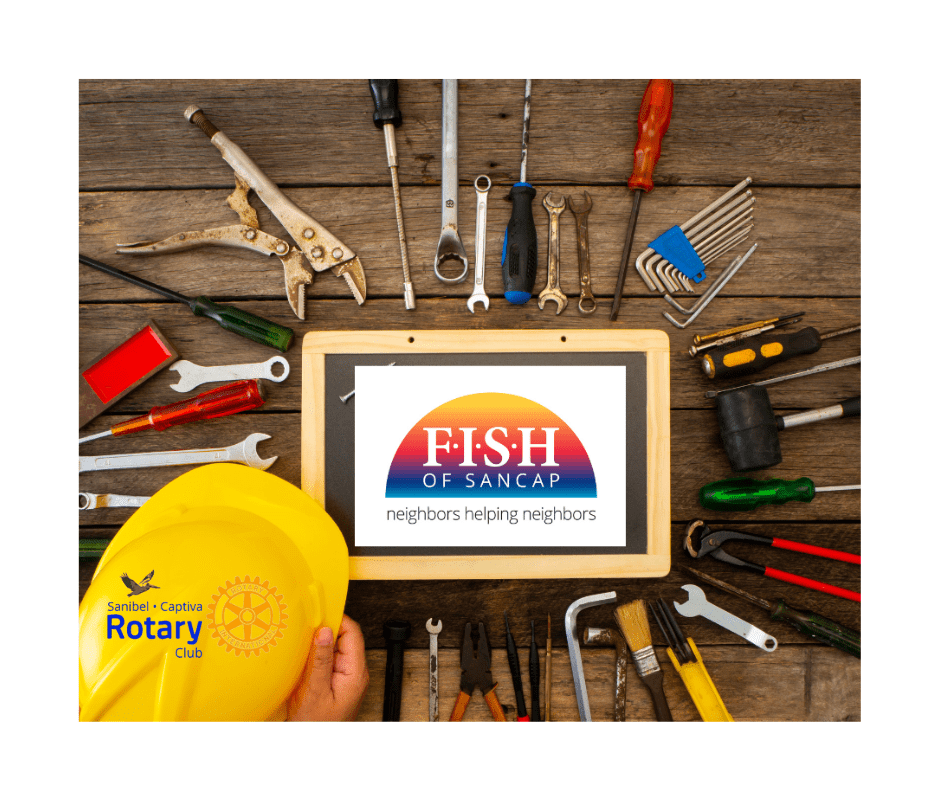 Realizing many residents have lost critical tools for completing Hurricane Ian recovery repairs to homes and businesses, FISH OF SANCAP and the Rotary Club of Sanibel Captiva have partnered to launch the Tool Shed Program. The program is available to residents of Sanibel and Captiva, on a first come, first served basis. "So many of our neighbors lost everything, including necessary tools to repair and rebuild," says Manuela Martinez, FISH Program Coordinator. "We hope this program can help residents make necessary repairs without adding the extra expense of purchasing tools to do so."
"The Rotary District Disaster Relief Trailer started at the Heights Center, and a few of us moved it out to Sanibel and parked it at Bank of The Islands," says David Lowden, Bank of the Islands Vice President. "This turned out to be a valuable resource for Islanders needing tools and supplies to help clean up their properties and gut their homes. It was also a great way to show the Island community that Rotary is here to help. Many Islanders homes were completely devastated, and it was important to let folks know that we care about their needs during a critical time. Thank you FISH for keeping this spirit alive with the new Tool Shed Program."
Using the Rotary Disaster Relief Trailer as a guide and making a few adjustments to model it similar to the FISH Medical Equipment Lending Program, the Tool Shed Program allows islanders to borrow tools they need temporarily and at no cost. No reservations are required and availability changes frequently. Tools offered may include electric drills, hammers, tool sets; shovels, mops, utility buckets; wheelbarrows, hoses, leaf blowers; chainsaws, saws, crowbars, and more.
States Rachel Tritaik, a participant who has used the Tool Shed Program, "Just after Ian, easy access to the Rotary Disaster Trailer was key. From gloves, masks and goggles to shovels, wheelbarrows and chainsaws, the trailer was well stocked, and in partnership with FISH, continues to provide resources for the Island's recovery."
Tools may be picked up at the FISH site located at 2430 Periwinkle Way during regular operating hours, Monday – Friday, 10:00a-2:00p. To learn more about the Tool Shed Program, please contact Manuela Martinez at FISH, 239-472-4775 or manuela@fishofsancap.org.