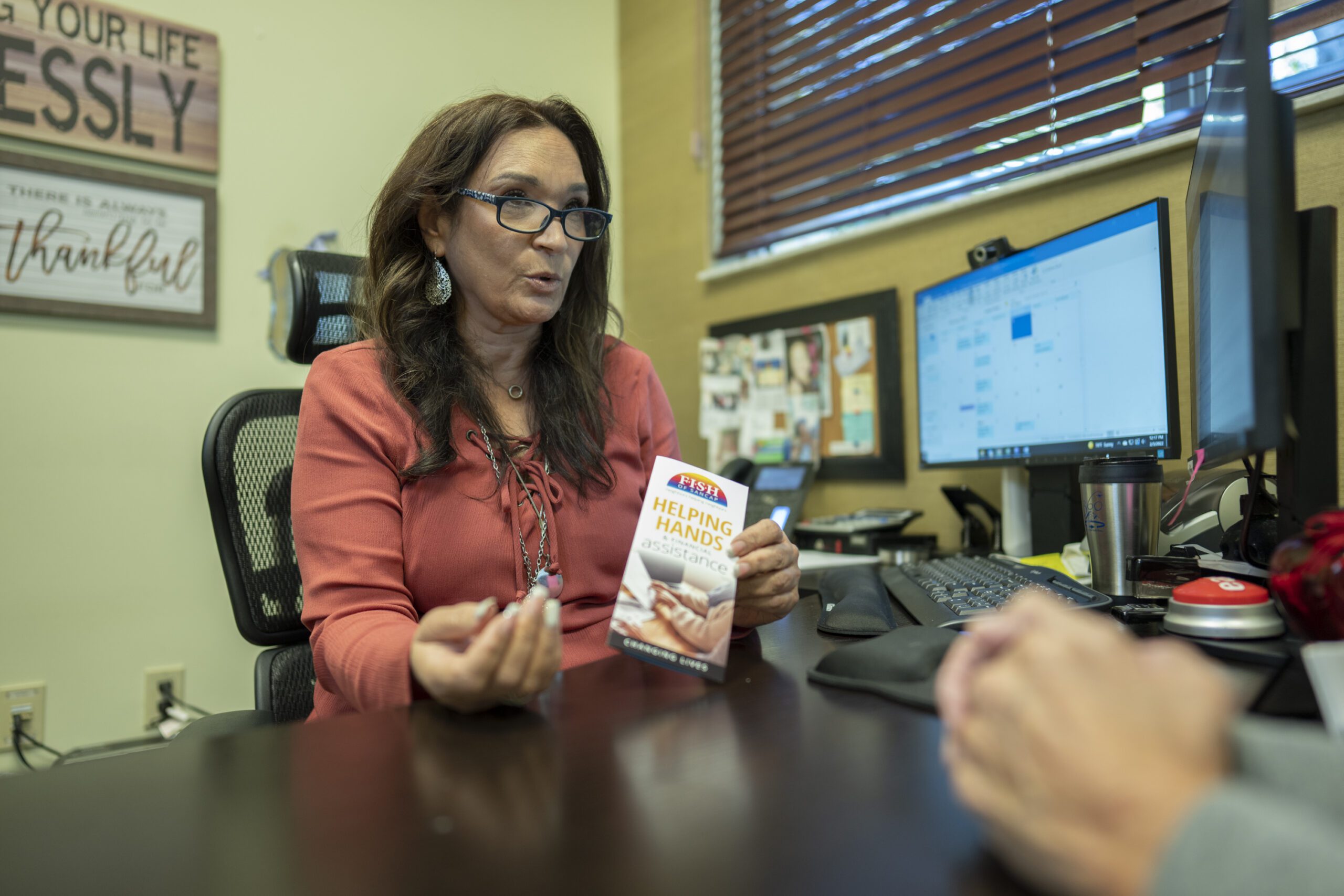 FISH OF SANCAP, Sanibel and Captiva Islands social service organization, assists the residents and workforce of Sanibel and Captiva islands by providing long-term disaster recovery services..
"We are working hard to provide financial, emotional and other types of assistance to residents and our workforce," said Maria Espinoza, Executive Director. "Many have been struggling for a long time since Ian, and we want everyone to know that FISH is here to help. We are working with community members to determine obstacles. From there, we help solve unmet needs through collaboration with agencies and present cases to our partners for additional assistance outside of our scope."
Ava Gold was preparing for knee replacement surgery before Hurricane Ian hit. Because of the storm and the damage it caused to her home and work place, she decided to postpone surgery and focus on disaster recovery. "I was in a lot of pain and knew I needed the surgery, but in the panic of the storm and the chaos that followed, I went into survival mode and thought finding an alternate living space and a job should take priority." Ava worked as a server on Captiva and lived on Sanibel in a rental unit. The name of the individual in this release has been changed to protect privacy
Ava, who had been using the FISH food pantry prior to Ian, reached out to FISH for assistance with her FEMA application immediately after landfall. "FISH was so helpful and walked me through the application and appeal process. I consider myself one of the luckier ones; it only took a few months to receive FEMA funding," continues Ava. "I used everything in my savings account to make up the difference where FEMA fell short, and was able to find an apartment just off island."
Once she felt she was in a good place with her housing, Ava rescheduled her knee surgery. "I knew my health insurance wasn't going to cover the surgery at 100%, so I used a few months of rent money to pay my deductible and other medical expenses," continues Ava. Although her recovery is going well, it's taking a bit longer than expected since Ava put off surgery to focus on hurricane recovery. "My plan kind of backfired on me because I thought I would heal faster than I did. The doctor said it would take a longer for me because I waited so long and my knee deteriorated considerably. I reached out to FISH requesting financial assistance for rent and utilities, since I couldn't go back to work. FISH came through for me, and I am eternally grateful," notes Ava.
Ava's struggles don't end here, however. She is concerned for her adult daughter and her disaster recovery since she 'lost everything and has nothing to her name', according to Ava. "I've been so depressed since the hurricane, my surgery and my daughter's wellbeing. I'm considering leaving and going up north to my sister's house for a while," continues Ava. "It is still so sad on the island, it's fueling my depression. I think I need to take care of me right now."
FISH is providing resources and support as Ava contemplates leaving Florida, and is encouraging her to attend their mental health initiative, hosted by FISH at The Gathering Place and in partnership with SalusCare and Project H.O.P.E. "At this point I'll try anything to get out of my depression and move forward in a place I've called home for many, many years."
Like Ava, many are still struggling since Hurricane Ian. FISH continues to provide long-term recovery services for anyone who lives or works on Sanibel and Captiva Islands. The organization is answering all requests for assistance including emergency financial assistance, providing rebuilding supplies and assisting with medical and mental health referrals and resources. For those interested in learning more about FISH, please visit their website and social media pages to see firsthand how the agency works to better the community and particularly their response to the Ian disaster.