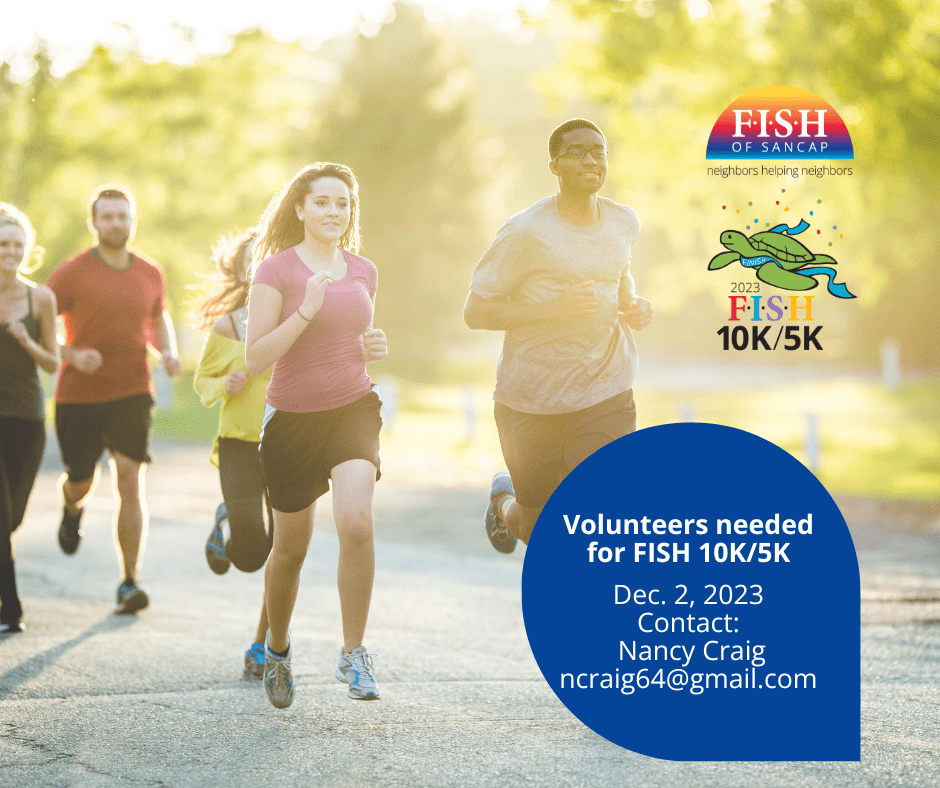 The annual FISH OF SANCAP road race, this year as a 10K and a 5K, needs your help! The race, scheduled for Sat., Dec. 2, 2023 and beginning at 7:30am, is in need of volunteers for various positions throughout the morning.
Race committee member Nancy Craig is seeking interested individuals to lend a hand at the 2023 race. "We need many individuals to man driveways and water stations during the race to ensure the safety and health and wellness of our runners," said Nancy. "It's a great way to show support for FISH and our community, and can be loads of fun!" Often, driveway volunteers cheer runners on, offer words of encouragement, and show their support for those running for a cause. The annual FISH 10K/5K is one of two fundraisers for the organization, whose mission is to enrich the lives of all people in Sanibel and Captiva Islands by neighbors helping neighbors with social services, education and assistance. FISH is a human services organization focused on 'neighbors helping neighbors' with a vision to create communities where all people have the support they need to thrive. This year the organization's main focus is on long-term recovery following the Hurricane Ian disaster.
"Although the race isn't until early December, we need as many commitments as possible ahead of time," continues Nancy. Interested individuals may contact Nancy by email, ncraig64@gmail.com, or contact the FISH office at 239.472.4775 for additional information. In addition to driveway and water station assistance, other volunteer opportunities include assistance at the Community House with set up, registration and clean up, handing out ribbons, award ceremony assistance and assistance at the Sanibel Recreation Center for the post-race kids' run and fun day. Times vary, please contact Nancy Craig for information.
This year's race marks the first in-person event in recent years. In 2020-2021 FISH offered a virtual only race due to COVID and canceled the 2022 event due to Hurricane Ian. FISH is planning a festive day of running and fun, and encourages the community to check their website for updates on the race and other events.
Support for the race is critical as FISH continues to serve the residents and workforce of the islands. Sponsorship opportunities are available at various levels and can be found on the organization's website, fishofsancap.org. For additional information on the 10K/5K Race including sponsorship, please contact Diane Cortese at Dianerc10@gmail.com or Leah Winkler at leahwinkler12@gmail.com