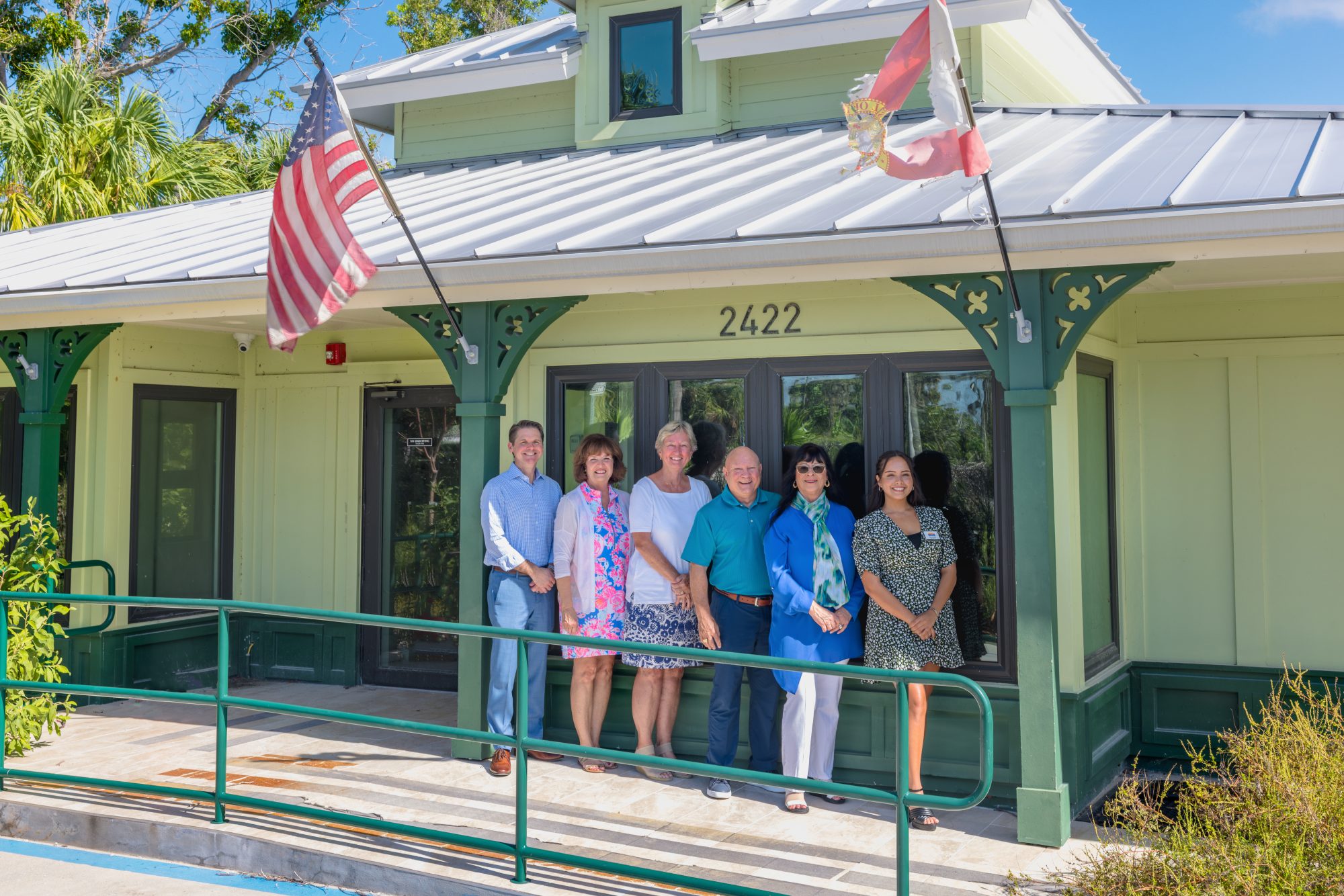 FISH OF SANCAP plans to create a one-stop shop serving local families with the purchase of a former bookstore next to its current location. Eventually, FISH will create a welcoming setting to house programs that address immediate and long-term needs.
Maggi Feiner, President & CEO states "FISH now owns the former Gene's Books, 2422 Periwinkle.  It is located next to FISH's existing building which was severely damaged by Hurricane Ian and requires a long-term rebuild.  The purchase of Gene's Book will soon house the food pantry as well as many of our other programs.  Eventually both buildings will host programs under FISH's four major pillars – Food, Island-Based Education, Social and Senior Services, and Helping Hands – in addition to long-term recovery services."
"Right now we're working to get the Gene's location ready to house our pantry, one of the larger programs at FISH," said Maria Espinoza, Executive Director. "We will remain fully operational through this transition, serving our island community as we've done for over 40 years."
By expanding its footprint, FISH is helping preserve the legacy of Gene's Books as a community servant, Espinoza said. The business recently announced on social media that it would not reopen in the wake of Hurricane Ian.
"Gene's Books has been a great neighbor and supporter of FISH, sustaining many of our programs through in-kind and financial support," said Jim Metzler, Board Chair. "We're sad to see the store leave the island, yet we're thrilled that they wanted to work with us to write this new chapter for Sanibel and Captiva."
Gene's Books opened its 2422 Periwinkle location in late 2019 but has been on Sanibel for almost 10 years. In deciding last January to close, the owners' announcement said in part: "No natural disaster can diminish our memories or rob us of our passion for the written word. This is the update none of us wished for, but we downright refuse to let go of this amazing community of people. It may seem like Hurricane Ian wrote the last chapter for Gene's Books, but really it's just the beginning of something else. Instead of wallowing in our loss, we are choosing to remain hopeful about the future."
As FISH continues to assist island residents and workers still struggling since Ian, the agency sees the need to grow to meet the needs of long-term recovery.
"We are committed to providing services for as long as it takes," said Espinoza. "Our 2430 building was already tight on space before the hurricane. Now that we are expanding and adding new programs, the extra space will help us serve more people."
A timetable for the expansion is still in the works, according to Espinoza.
Through collaboration and hard work, FISH is helping the community rebuild and recover. FISH continues to provide long-term services for survivors who live or work on Sanibel and Captiva Islands. For requests beyond what FISH can provide, the agency connects with others to provide disaster case management and alternate funding options. Since Ian, Espinoza has joined the Health and Social Service Branch of the Resilience Lee Task Force, the Lee County Unmet Needs Governing Board, and she received the Rotary District Disaster Response award.
The FISH team can be found at their food pantry location, 2430 Periwinkle Way, Monday-Friday from 10 a.m. to2 p.m., and at The Gathering Place (formerly Noah's Ark), 2304 Periwinkle Way, on Monday, Wednesday and Friday from 10 a.m. to4 p.m.
More information about FISH is available online at fishofsancap.org, as well as Facebook, Instagram and X (formerly Twitter). For details about hurricane recovery and other services, contact Maria Espinoza, FISH Executive Director, at (239) 472-4775.