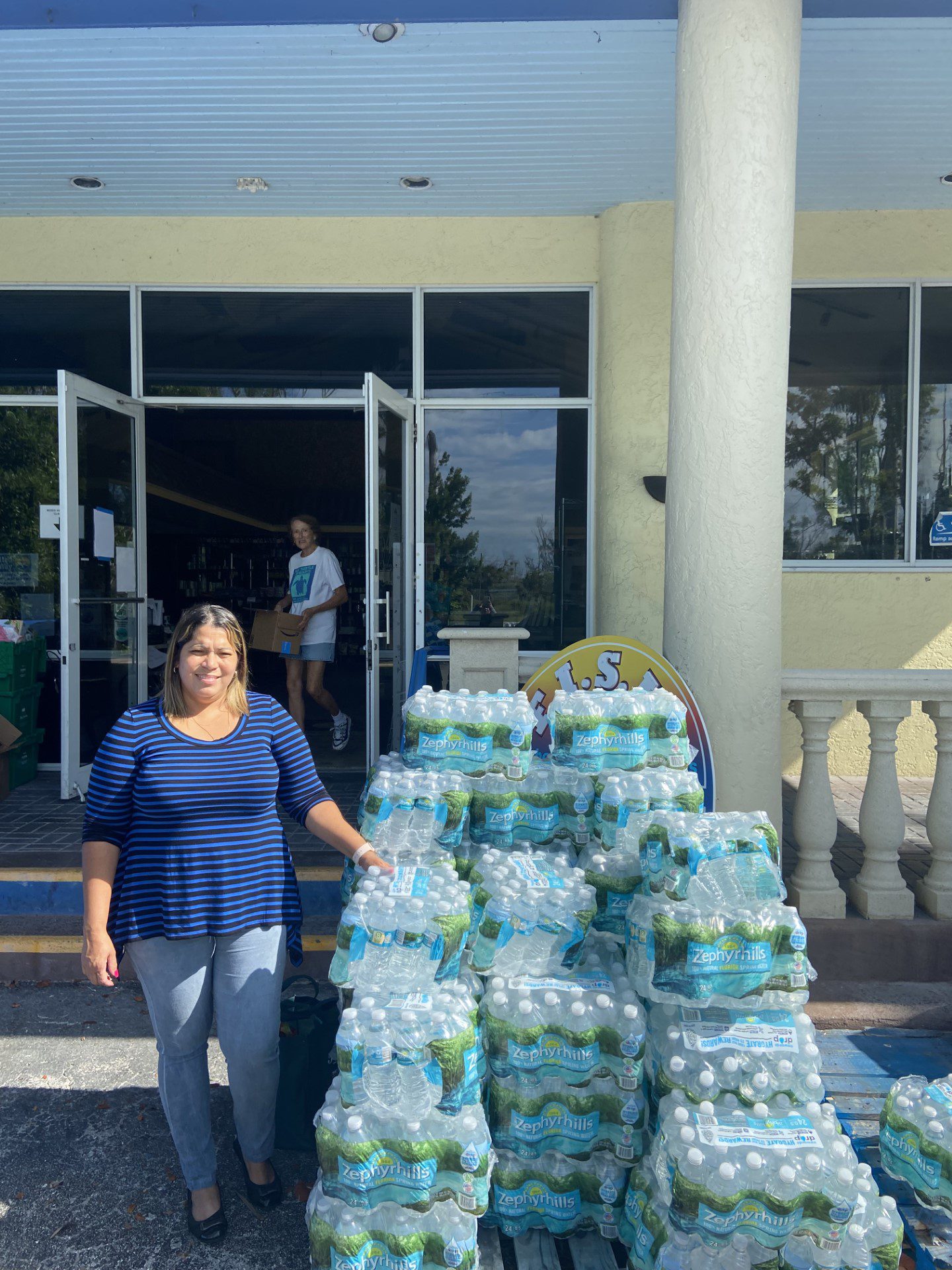 Exactly eleven months after Hurricane Ian made landfall, the FISH OF SANCAP team is positioned on Sanibel to aid with hurricane preparedness ahead of Hurricane Idalia. What has been a very quiet season thus far has turned into an active month with several storms in the Atlantic basin. Tropical Storm Idalia, predicted to become a hurricane, is on everyone's radar as the storm to watch.
"We are hoping for the best and preparing for the worst," said Manuela Martinez, Disaster Administrative Director. "FISH is here to assist our community with supplies, food and information. We want everyone to be prepared and to stay safe. Our Food Pantry site on Sanibel will be our hub and we expect many neighbors to either visit or call with questions. Together, we will get through this." The Food Pantry is open from 9:00 a.m – 1:00 p.m. with no limitations on food and limits on water, toilet paper and paper towels. The agency expects 14 pallets of water to be delivered today from their pantry partner, Midwest Food Bank.
Annually, FISH, the City of Sanibel, Lee County Emergency Management, and others work together to review plans for the upcoming hurricane season. FISH updates and provides a Hurricane Preparedness Resource packet with detailed information on where to go, what to do, and how to prepare in the event of an approaching storm.
"The packet provides critical information and helpful steps to stay safe before, during and after a storm," says Erika Broyles, Senior Services Director of FISH, who oversees the program and coordinates the efforts of the team to insure all information is correct.
FISH and their volunteers, in collaboration with other stakeholders like the City of Sanibel, work with the most vulnerable residents to ensure their annual emergency evacuation plan is up to date. The Hurricane Committee keeps in touch with them before, during, and after storms and, to the extent possible, updates out of state family members on the status. "Our volunteer committee is on alert and making calls to islanders informing them of the current situation and projected impact of Idalia," continues Broyles. "As we learned with Ian, it is very important to have up-to-date contact information for family and friends in both electronic and paper form so we can connect with non-local contacts on behalf of our islanders, if needed."
The FISH Hurricane Resource packet provides information on evacuation routes, flood zones, hotels with generators, shelters, pet accommodations, and more. "With the safety of our neighbors in mind, we want to make sure everyone has reliable information when a storm approaches," says Broyles. Packets are available on Sanibel at the FISH location, 2430 Periwinkle Way.
FISH stresses the importance of listening to authorities if an evacuation order is issued. "Experts know that the best way to stay safe during a hurricane event is to follow evacuation orders and get out of the path of the storm," says Broyles. "The path of the storm can change quickly conditions. While evacuation orders may feel 'last minute', you don't need to wait for the order to leave."
Hurricane Resource packets can also be downloaded from the organization's website, www.fishofsancap.org, on the Hurricane Ian Resources or Social & Senior Services page.
Today the FISH team can be found at their food pantry location, 2430 Periwinkle Way, Monday-Friday from 9 a.m. to 1 p.m. In the event of closures, please check the organization's social media sites, Facebook, Instagram and X (formerly Twitter). For details about hurricane recovery and other services, contact Maria Espinoza, FISH Executive Director, at (239) 472-4775 or visit their website at www.fishofsancap.org.