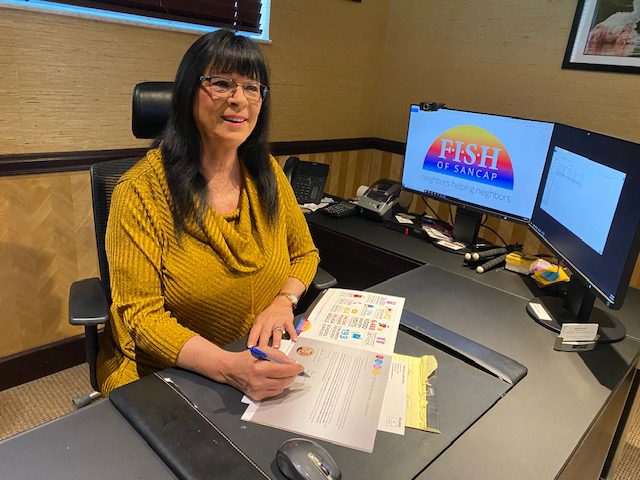 FISH Foundation Endowment Fund — Earlier this month, FISH of SanCap announced the Maggi Feiner Presidential Endowment Fund to assure sustainable leadership for the organization. The purpose of the Fund is to acquire and sustain leadership and commitment in the role of President & CEO for the organization over the long term. The endowment fund is designed to ensure financial and leadership infrastructure is in place in the event Feiner steps down from an executive role at some point in the future.
Over 17 years ago, Maggi Feiner began with the organization as a volunteer delivering meals to housebound Sanibel and Captiva residents. Since then, Maggi has been a constant in the long history of Sanibel and Captiva's 'neighbors helping neighbors' agency. Maggi has grown the organization into a full-service wrap-around social service agency that today operates with over 175 volunteers, 9 professional staff members, many programs and services, and a $1.8 million budget.
To this day, Feiner remains a FISH volunteer. Everything she has contributed to the organization has been accomplished without accepting a salary.
Started by a group of islanders wanting to find ways to help each other, FISH has become the social safety net for those who live, work, and visit Sanibel and Captiva Islands. Under Feiner's leadership, a continuing stream of projects followed, including the food bank, full-time professional staff, the purchase of the current building, and a broad range of programs. Maggi exemplifies 'service over self' and has made it her life's work to ensure that every person that lives or works on Sanibel and Captiva can breathe easier knowing in times of crisis, whether a personal crisis, water crisis, hurricane, or pandemic, FISH is here to help.
Feiner's volunteerism has turned into a labor of love and a legacy of neighborly generosity. "While I'm not going anywhere soon, it's important to the organization and community that we plan for my successor," adds Feiner. "Succession planning is a key systematic process of all organizations and, in the case of FISH, vital to its financial sustainability particularly because the role of President & CEO has been an unpaid position for the last 17 years. My passion for FISH is inspired by the generous community, who I hope will answer this call to action by supporting the endowment fund."
The exponential growth of FISH as an agency is due to Maggi's willingness to listen to and learn about her neighbors. Maggi recognized the severe gap in social services available to not only those that live on Sanibel or Captiva but those that make our engine run—the workforce. By engaging islanders to get involved in any way they can, Maggi has deepened the culture of community the islands are known for and took it to the next level. "FISH plays a central role in our community by offering social services on the islands," states Feiner. "Although no day is ever the same, our 'neighbors helping neighbors' message is consistent. Thanks to the support of our islands, FISH answers 100% of the service requests received."
Maggi has the enthusiasm and commitment that any nonprofit leader should have and then some, and it has not gone unnoticed by her community. Maggi is the winner of the 2015 SanCap Rotary Community Vocational Excellence Award & Paul Harris Award; 2013 Best Humanitarian Award; 2013 Edison Festival of Light Honorary Grand Marshal; 2010 COTI Citizen of the Year; and 2009 Sue Rosica Gary Award, SanCap Chamber. She strongly believes in community partnerships to help those in need and to build a strong community for years to come. Everything Maggi Feiner is involved with focuses on island residents, workers and visitors and supports a broad range of services made available to them through the FISH organization with a strong focus on human services, economic stability, and educational opportunities.
To support the endowment fund designed to sustain leadership at the level personified by volunteer Maggi Feiner, reach out to John Morse, FISH of Sanibel-Captiva Foundation Chair at info@fishofsancap.org. Donations can be made to FISH of Sanibel-Captiva Foundation, Inc.
To learn more about the organization or investigate volunteer activities, especially needed over the summer months, contact Maria Espinoza, Asst. Executive Director, or Jennifer Pagano, Walk-in Center Manager, at info@fishofsancap.org .