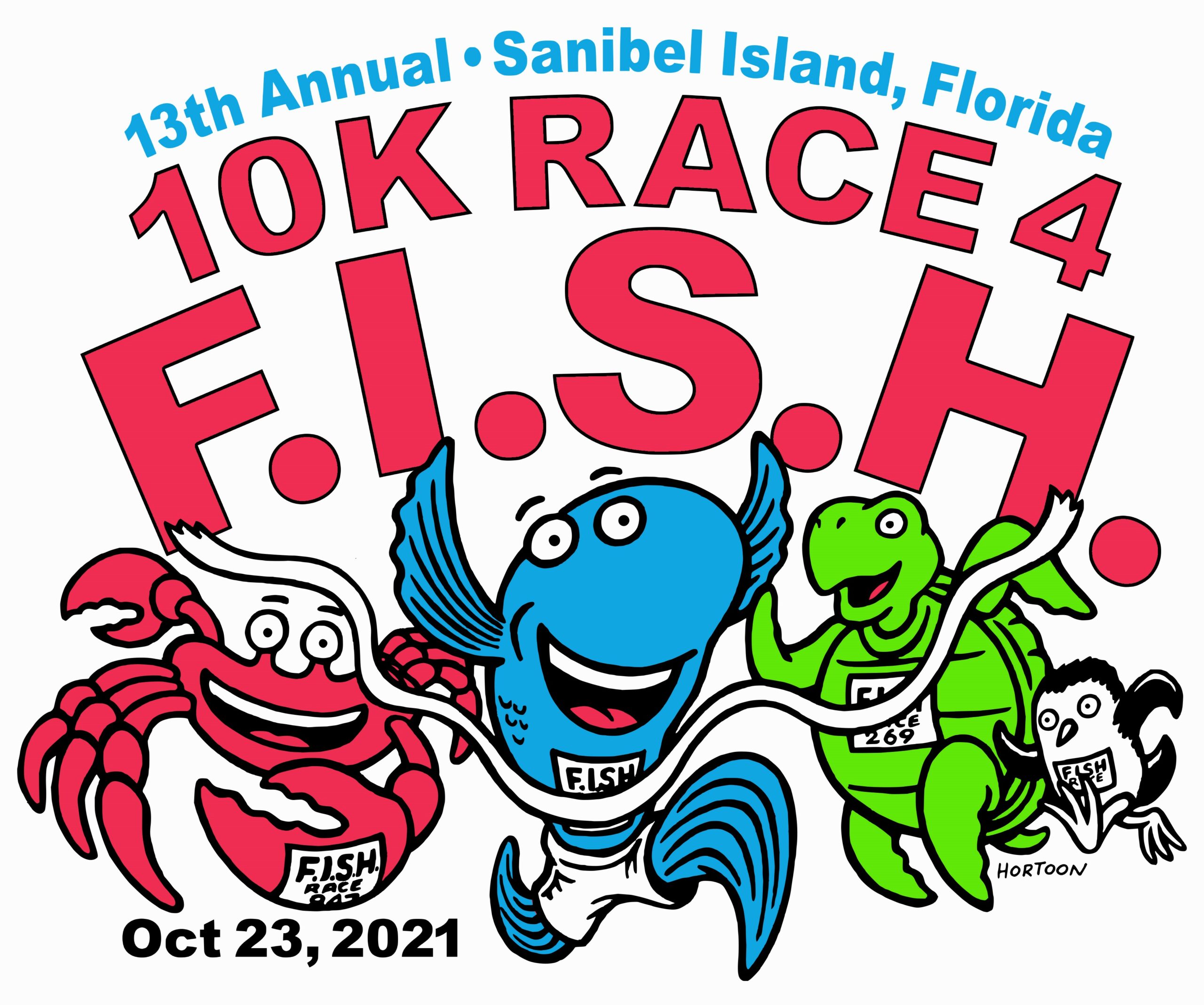 FISH OF SANCAP, the islands only wrap-around social service agency provider, is pleased to announce the date for their 13th Annual 10K Race 4 F.I.S.H. The race will be run on October 23, 2021 in conjunction with the Fort Myers Track Club. The organization is in beginning stages of planning and additional details are forthcoming.
As in years past, Hortoons creator Dave Horton graciously designed the 13th annual 10K Race 4 F.I.S.H. logo depicting his lovable animal characters. Horton has been crafting amusing cartoon drawings for newsprint since he was in high school, starting with his school newspaper and eventually landing a deal with Hallmark when he was just a teenager. Says Race Committee Chair Diane Cortese, "Dave is a multi-talented artist and we are grateful to have him design our race logo each year. His artistic talent and sense of humor add something special to our race with each design." Participating runners will receive a dri-fit shirt, with the Hortoon 10K logo on the front.
For the past 12 years FISH has had great fun with their annual 10K Race. Last year, out of an abundance of caution for participants and islanders, the race was held virtually where runners participated and logged their time in October. "While we are still ironing out the registration and format details for this year, we are thrilled to begin planning for the 2021 race," continues Cortese.
Information on sponsorship opportunities as well as 10K Days – opportunities for island businesses to showcase their establishments while supporting FISH – is available on the organization's website, fishofsancap.org
FISH provides services to anyone who lives, works or visits Sanibel and Captiva Islands. Started in island residents' kitchens and out of their cars nearly 40 years ago, FISH continues to grow to meet the demands of the community. FISH has something for everyone, and it is their goal to offer services that can assist, educate, and enrich the island community. For additional information on the FISH organization and their programs and services, please contact Alicia Tighe Orgera, Executive director at 239-472-4775 or visit their website at www.fishofsancap.org. For additional information on the 10K Race including sponsorship, please contact Diane Cortese, Race Committee Chair, at Dianerc10@gmail.com.