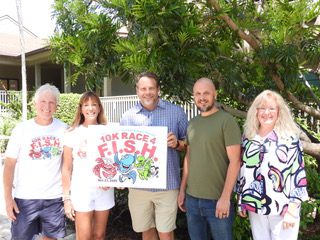 The 10K Race 4 F.I.S.H. Committee welcomes Sanibel Community Church (SCC) as a sponsor of the 13th annual race supporting FISH.  Says Pastor Jeramie Rinne, "Sanibel Community Church is delighted to partner with FISH again this year, not only in supporting the road race, but in continuing to meet the needs of our island together." 
Sanibel Community Church is a congregation of people from a wide range of ages, life experiences and faith backgrounds. SCC has been an integral part of the history of Sanibel Island for more than a century, and continues to play a vital role in the community today. The congregation invites year-round locals and visitors of the islands to gather on Sunday mornings for services located at 1740 Periwinkle Way, Sanibel.  For additional information, visit sanibelchurch.com.
"We are thankful to Sanibel Community Church for supporting FISH, the race, and the community as they have been for many years," said Diane Cortese, Chair of the 10K committee, "The Community Church leads by example in their generous spirit and support of their neighbors-in-need."
The 2021 race, scheduled for Oct. 23, will be held in two formats — an in-person running event and a virtual option where runners can participate and submit their time at any point from when they register through Oct. 23rd at 11:59pm. Registration is open through the Fort Myers Track Club at ftmyerstrackclub.com. Cost is $40 for those who register before Oct. 17, prices increase after Oct. 17 at 11:59pm EDT. Participating runners will receive runner's shirt with the Hortoon 10K logo on the front.
For additional information on the 10K Race or if you are interested in sponsoring the event, please contact Nicole McHale at noel2me@icloud.com or Diane Cortese at Dianerc10@gmail.com, Race Committee Chairs. For additional information on the FISH organization and their programs and services, please contact Alicia Tighe Orgera, Executive Director at 239-472-4775 or visit their website at www.fishofsancap.org. 
10K Committee Members Roger Timm, Nicole McHale and Sanibel Community Church representatives Jeramie Rinne, Doug Hummer, Beth Winters