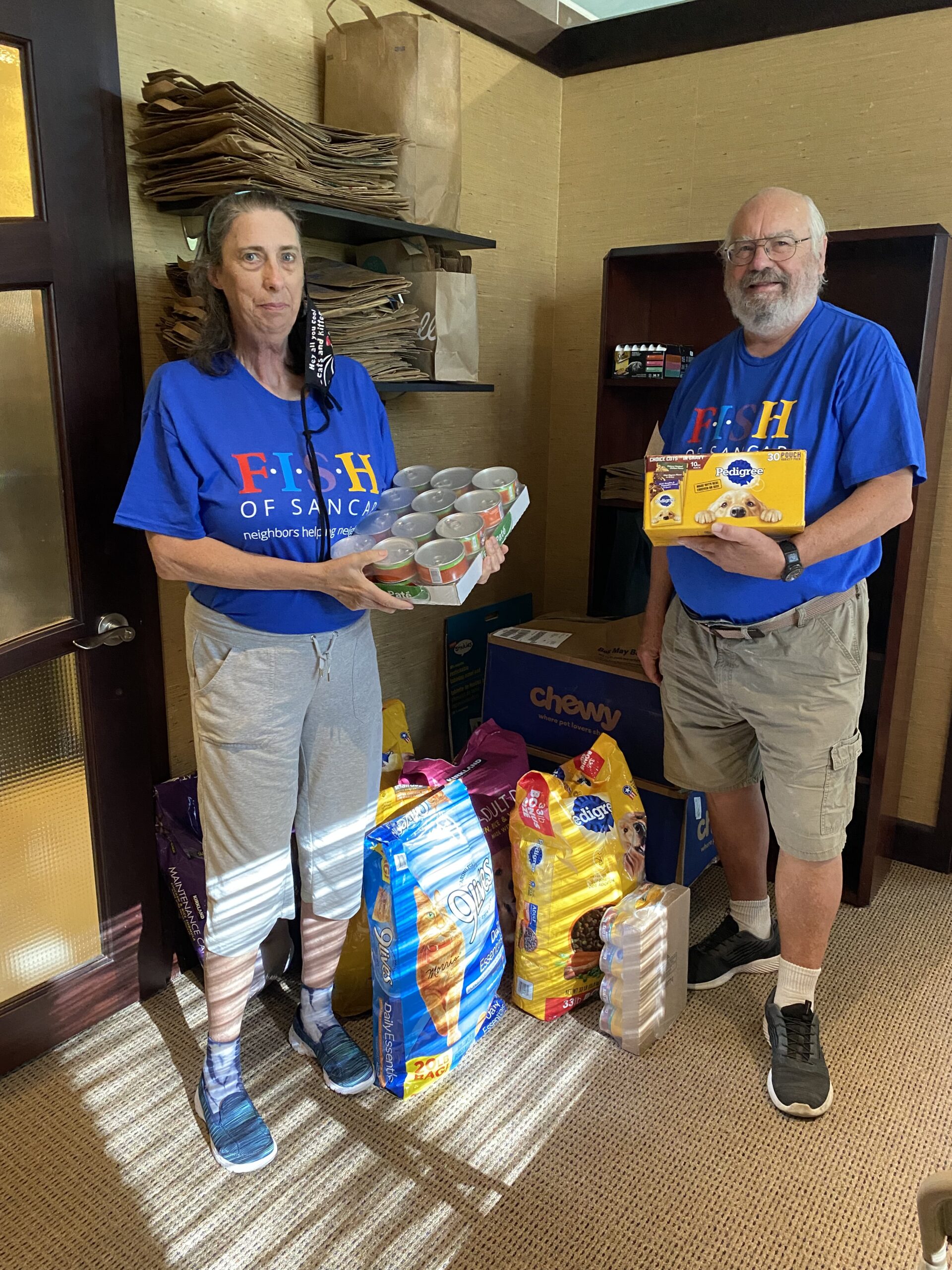 The Annual ENPYs – Excellence in Nonprofit Performance Yearly awards ceremony, held Sept. 28, 2023, revealed FISH volunteers Jim and Joan Bajek as winners of the Nonprofit Volunteer of the Year Award. The awards are hosted by The Community Foundation to highlight the efforts of Southwest Florida nonprofits and the accomplishments of nonprofit leaders. The event was aired on a special live televised broadcast across Southwest Florida and live streamed on ctntelevision.com.
Joan and Jim Bajek were nominated by FISH OF SANCAP for the Nonprofit Volunteer of the Year Award. This award honors a volunteer(s) who goes above and beyond to support the objectives of an organization to enhance its ability to deliver on its mission for maximum impact on the community and the lives of those it serves.
Jim and Joan Bajek have volunteered in many capacities for FISH since 2017, but most notably their assistance in the food pantry and holiday programs have made a difference for the many individuals and families that use those services. Each week, Jim and Joan manage the coordination of providers for the food pantry program the volunteers and meal pick-ups—a program that runs 365 days a year, including ensuring clients who receive meals are prepared and fed during tropical weather. Beginning at FISH in the Food Pantry program, Jim and Joan have been steady volunteers in instrumental in the operation of the food pantry. They have taken a particular interest in assisting our four-legged friends, ensuring that the pantry has supplies and food available for pets, and have even run drives and set up platforms for donors to order pet supplies to benefit the pantry and its island users. In addition to their FISH volunteerism, the Bajek team also volunteers at CROW and is deeply committed to the island community.
Said Team Bajek, "FISH caught our attention because of the number of different programs that help those in need. It becomes easy to get drawn into the action and meet the needs of so many people. It's made a positive impact on those that need it the most and on us, since we have the time and resources to devote to the effort. We love seeing the smiling faces and hearing kind words from those receiving help. Knowing we have become a vital part of the Sanibel community spirit fuels our desire to continue giving."
The Bajeks find ways to make subtle changes to enhance the FISH experience for neighbors in need. They have big hearts and share their compassion with everyone they come in contact with, always taking extra time with those they're delivering to or talking with. This helps FISH understand the needs of those they serve and when necessary, to offer additional services to make sure all needs are being met.
Late 2022 and early 2023 was particularly difficult for volunteerism with the FISH organization due to the impacts of Hurricane Ian. "Although their home was damaged, as soon as the causeway was repaired and vehicles allowed, Jim and Joan once again began volunteering by picking up critical items – often using their own vehicle — and assisting in every way they could," notes Maria Espinoza, Executive Director of FISH. "They volunteered for any program that needed it and helped problem solve the layout and structure of the very important food distribution and holiday gatherings, both of which were incredibly meaningful to our community. The Bajeks always step in where and when needed and coordinate with others to make every effort a success. We are honored to work with them in our efforts to assist our neighbors."
To learn more about volunteering with FISH, contact their office at 239-472-4775 or visit their website to download a volunteer application. More information about FISH is available online at fishofsancap.org, as well as Facebook, Instagram and X (formerly Twitter). For details about hurricane recovery and other services, contact Maria Espinoza, FISH Executive Director, at (239) 472-4775.