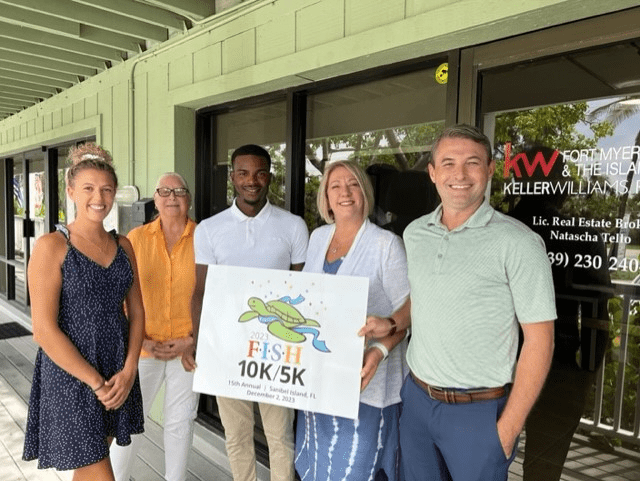 FISH OF SANCAP announces the Ashton Kirchner Group of Keller Williams Realty as a Gold Sponsor of their 2023 10K/5K and Music Festival. Businesses and individuals sign up to sponsor the fundraising event for FISH to raise funds for the 'neighbors helping neighbors' organization.
Long-time resident Sarah Ashton and her business partner, Chris Kirchner, are both active Realtors in the Sanibel and Captiva markets. The Ashton Kirchner Group of Keller Williams Realty supports FISH because of the organization's motto, Neighbors helping Neighbors.
Says Sarah Ashton, "The Ashton Kirchner Group is proud to support FISH of SANCAP through sponsorship. The work that FISH has done and continues to do to support the community is crucial to the recovery of the Island from the trauma of Hurricane Ian. If we want a community that works, we need to meet the needs of all the residents [and workforce]. FISH identifies those needs and then solves it. It's that simple. Thank you FISH for all you do!".
Sponsorships are critical to the event's success as funds raised benefit FISH. The mission of FISH is to enrich the lives of all people in Sanibel and Captiva Islands by neighbors help neighbors with social services, education and assistance. FISH is answering all requests for assistance such as hands-on services to disaster survivors including long-term recovery assistance and mental health counseling and resources. Additional services available include temporary financial assistance for medical, housing and utility expenses and programs representing the organization's four major pillars — Food, Island Based Education, Social and Senior Services, and Helping Hands to ensure no need goes unmet.
Sponsorship opportunities can be found on the organization's website, fishofsancap.org. For additional information on sponsorship, please contact Diane Cortese at Dianerc10@gmail.com or Leah Winkler at leahwinkler12@gmail.com.
Race registration is available at https://runsignup.com/Race/FL/Sanibel/10K5KRace4FISH. Sound+Waves music festival tickets are on sale now at https://FISHmusicfestival.rsvpify.com.
The FISH race event will begin and end at the Sanibel Community House on Dec. 2, 7:30am, offering two lengths, a 10K and a 5K. The FISH Sound+Waves music festival, hosted by 'Tween Waters, will begin at 5pm on Dec. 2. The concert will be performed on the beach, followed by fireworks. Food and beverage will be available for purchase.