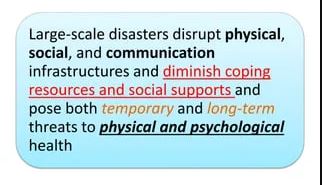 According to Lee Health, "mental health issues after a catastrophic event like Hurricane Ian don't always appear right away. They can affect people for years. Studies show that survivors of life-changing natural disasters face increased risk of developing anxiety, depression and post-traumatic stress disorder (PTSD)".[i]
FISH, along with SalusCare and Project H.O.P.E., have partnered to bring mental health resources to Sanibel and Captiva Islands.
"We realize many storm survivors are struggling with emotional stress, trauma and anxiety since Ian, and formed important partnerships to address these issues," says Maria Espinoza, Executive Director, FISH. "When Hurricane Idalia recently threatened our area, it became abundantly clear how necessary mental health resources are as they relate to hurricane survivors."
In a recent study titled Association Between Repeated Exposure to Hurricanes and Mental Health in a Representative Sample of Florida Residents, it was noted, "recovery from natural hazards may be a protracted process; psychological distress may persist and be exacerbated by subsequent exposures. This study's results highlight the need to address the mental health implications of repeated exposure to natural hazards, particularly in areas such as the Gulf Coast that are at high risk for repeated hurricane exposure, as risk of hurricanes and other climate-related threats is expected to increase.[ii]
To address ongoing storm related mental health concerns and as part of their Long Term Recovery Program FISH and their community partners offer services at The Gathering Place (formerly Noah's Ark). Mental Health offerings are available on Wednesdays with community partner SalusCare who provides group therapy focusing on hurricane related topics including PTSD, trauma and loss. Laura Guarino, MA, LMHC, CBHCMS, SalusCare leads the group from 11:00a-12:30p and will remain on-sire until 2p for anyone who would like a mini 1:1 session with her. Project H.O.P.E. will be available every Monday from 1:00p-3:00 at FISH's 2422 Periwinkle location (formerly Gene's Book Store) offering open discussions on post storm trauma, including mental exhaustion, decision making, financial fears, etc. "We encourage anyone who is coping with anxiety, depression and/or PTSD to seek assistance. SalusCare and Project H.O.P.E. are behavioral healthcare experts and can provide assistance and additional resources."
Other FISH services at The Gathering Place include social and senior services outlining disaster financial assistance, youth scholarships, emergency financial assistance and other FISH programs as well as information and assistance provided by SBA.
If you or someone you know is contemplating suicide, call or text 988 to reach the 988 Suicide & Crisis Lifeline or chat with someone online at 988lifeline.org. Additionally, the U.S. Substance Abuse and Mental Health Services Administration operates a free 24/7 crisis counseling helpline for people involved in disasters, including hurricanes and tropical storms. People can call or text 1-800-985-5990, and Spanish speakers can press 2 for help in that language. Third-party interpretation services are available for more than 100 other languages.
To learn firsthand how FISH and their community partners assist with long-term recovery including mental health issues, please check the organization's social media sites, Facebook, Instagram and X (formerly Twitter). For details about hurricane recovery and other services, contact Maria Espinoza, FISH Executive Director, at (239) 472-4775 or visit their website at www.fishofsancap.org.
---
[ii] Hurricanes and Mental Health